Watch the video: Museum of Contemporary Art curator Naomi Beckwith walks us through The Freedom Principle: Experiments in Art and Music, 1965 to Now.
Note: This video originally aired July 14 on Chicago Tonight and will return for an encore presentation Aug. 3.
---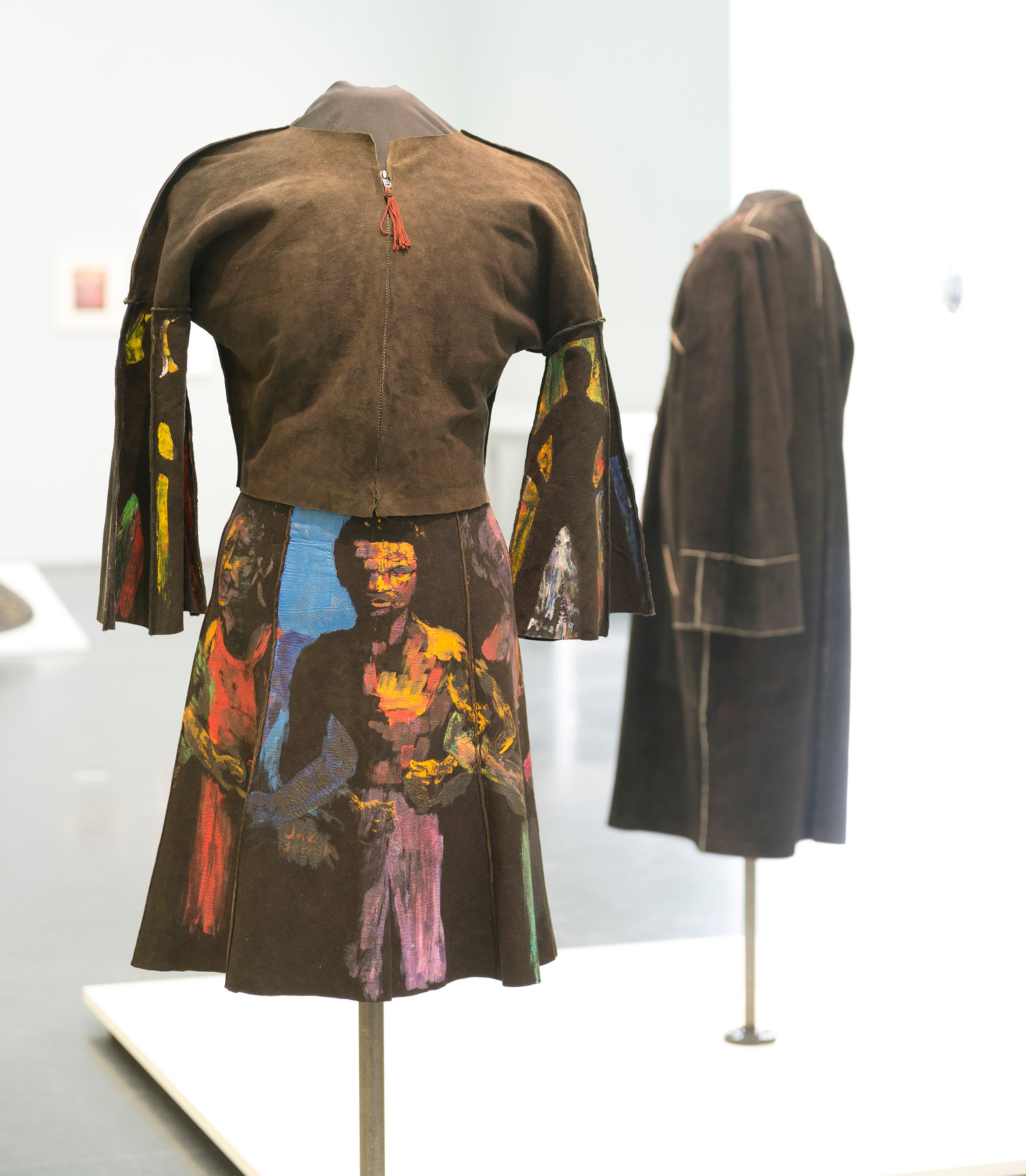 Installation view of 'Brothers Surrounding Sis,' left, and 'Gent's Great Coat' at 'Freedom Principle' exhibition. (Nathan Keay / Courtesy of MCA) There is a cage of drums made out of percussion instruments, and objects that have percussive possibilities.
There is a dress made from suede and adorned with paintings, titled, "Brothers Surrounding Sis."
There are paintings by musicians, and sonic sculptures made by artists.
"The 1960s was really a time where people felt a kind of freedom to work across disciplines," says Museum of Contemporary Art curator Naomi Beckwith. "You could make music as a visual artist, you could make paintings as a musician, and this time was really one that was so much about the freedom to experiment."
"The Freedom Principle" celebrates the legacy of AfriCOBRA–a self-proclaimed Coalition of Black Revolutionary Artists–and their music-minded cohorts the AACM, the Association for the Advancement of Creative Musicians.
Both groups started in Chicago in the 1960s.
"Many members of the AACM were also members of AfriCOBRA, they worked with them on creating paintings, they worked on mural projects together, so there was a real integration of this life of the visual artist and the life of the musician," Beckwith explains.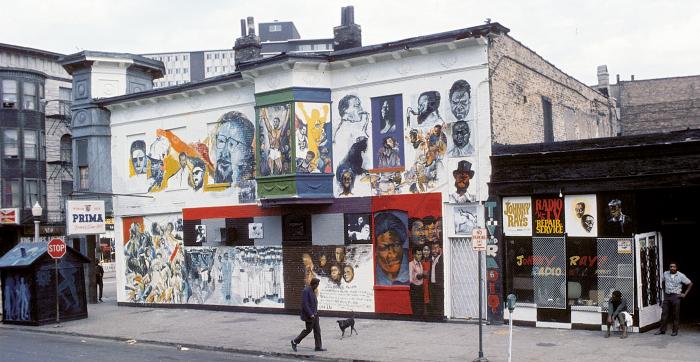 Robert Abbott Sengstacke, 'Wall of Respect,' 1967. (Robert Abbott Sengstacke / Getty Images) One project was the long-demolished "Wall of Respect" mural at 43rd Street and Langley Avenue. It was unveiled in 1967, the same year as the Picasso sculpture downtown.
"Many artists and activists created a public art project for the Southwest Side and it was called the 'Wall of Respect' … [it was] a mural that featured portraits of many heroes for the African American community that included musicians, artists and also sports figures, inventors, scientists," says Beckwith.
The avant-garde movement was motivated by three concepts: collectivity, experimentation–and that most Chicago of ideas, improvisation.
The artists were always looking ahead.
"One of the most amazing things about the artists and musicians working in the '60s is that they were always future-oriented," says Beckwith. "They were always thinking about the world that was yet to come. For us thinking through this exhibition, we also have to be just as attentive to the future and the 'now' as we are to the past."
The MCA did that by focusing on the continuing influence of AfriCOBRA, the AACM and related groups.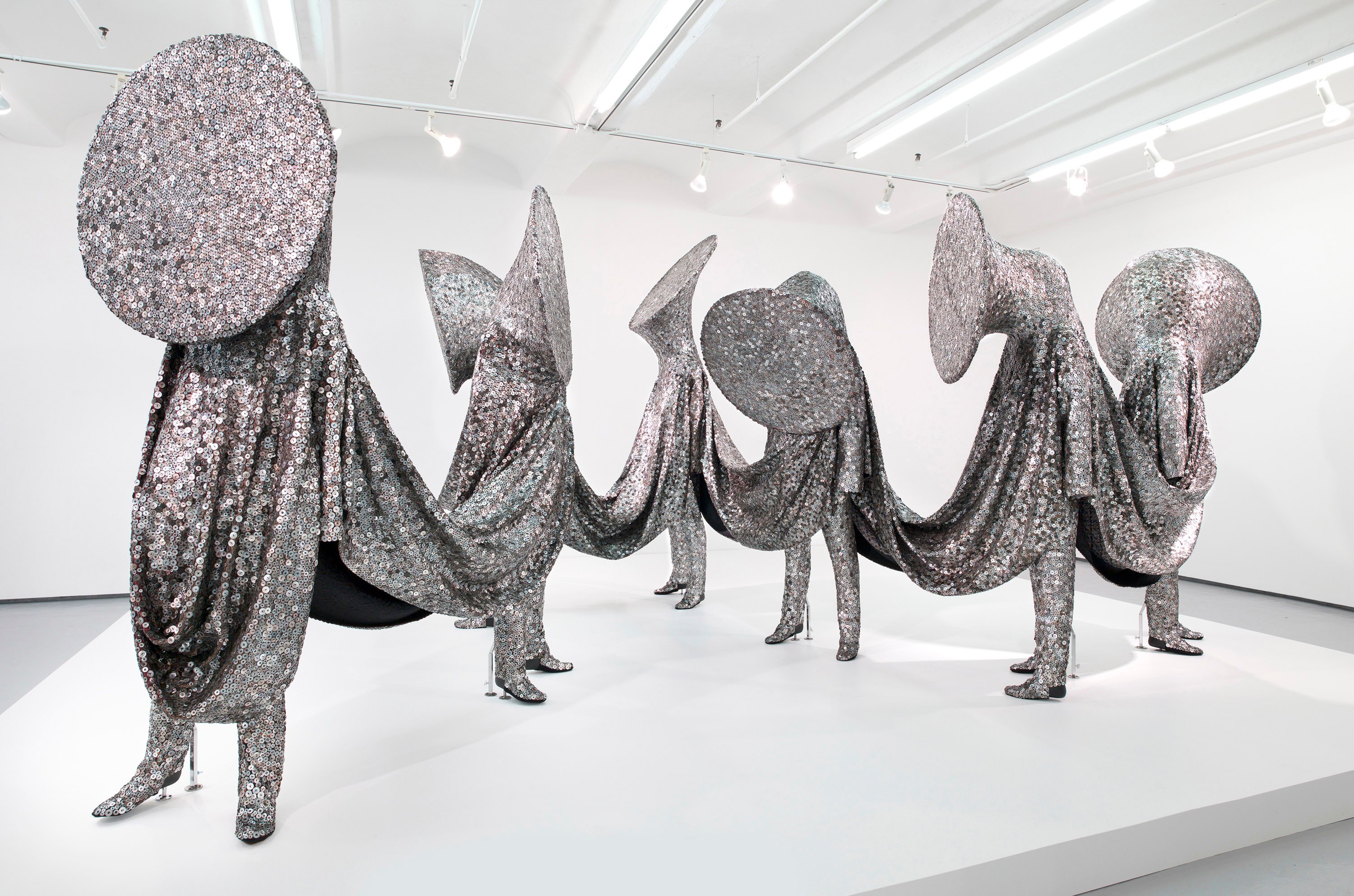 Nick Cave, 'Speak Louder,' 2011. Courtesy of the artist and Jack Shainman Gallery, New York. (James Prinz Photography) Contemporary artists including Rashid Johnson are represented. And there's a recent installation by Nick Cave called "Speak Louder," a theatrical group of inter-connected figures.
Before the show even opened, it had some famous visitors.
"Mick Jagger and Ronnie Wood of the Rolling Stones came by to see the museum and I was really happy to take them through a preview," said Beckwith.
"When they came to the museum they weren't aware of the exhibition yet–we hadn't publicized it–but they're interested in new culture and so are we at the MCA, and as such we're interested in 'The Freedom Principle' being so much about history, but of course a new culture that comes from that history.
"This is really the project by which I give a love song to Chicago," says Beckwith. "That so much really unique and experimental music and art came out of Chicago and that it really hadn't been celebrated to the extent that it should've been.
"What we tried to do is create an exhibition that says that something really important happened in Chicago, something unique that couldn't be replicated anywhere else happened in this city in the '60s and '70s and that still has a legacy and repercussions to this day."
"The Freedom Principle" runs through November 22 at the Museum of Contemporary Art.