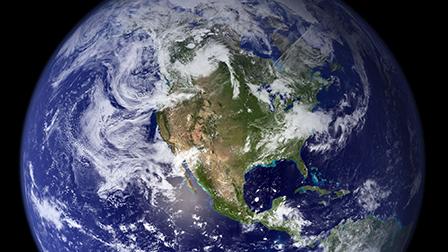 Experts from the American Security Project, a nonpartisan think tank based in Washington, D.C., are in Chicago to sound the alarm that inaction on climate change weakens the United States' national security position.
We'll learn more about the project in a discussion with retired U.S. Navy Vice Admiral Lee Gunn and Andrew Holland, senior fellow with the American Security Project and a former aide to ex-Secretary of Defense Chuck Hagel during Hagel's time in the Senate.
---
In his May 20 commencement address at the Coast Guard Academy in New London, Connecticut, President Barack Obama pointedly called out other politicians who he believes are ignoring climate change.
"There are folks who will equivocate. They'll say, 'You know, I'm not a scientist.' Well, I'm not either," Obama said. "But the best scientists in the world know that climate change is happening. Our analysts in the intelligence community know climate change is happening. Our military leaders, generals and admirals, active duty and retired, know it's happening."
Some military leaders have joined forces with the American Security Project for a national tour that addresses the national security implications of climate change.
In its quadrennial review released in 2014, the Defense Department highlighted climate change as an imminent threat to the American military. The report refers to climate change as a "threat multiplier." The ASP sees examples of this in Syria, where an extreme drought, they say, accelerated unrest.
"National security, linked to energy security and economic growth, which undergird all of our nation's power, can be achieved by taking action now to avert the worst consequences of climate change," Vice Adm. Lee Gunn said in a statement. "The imperative, then, is for leadership and action on a global scale."
Gunn, who served in the U.S. Navy for 35 years, and ASP Senior Fellow Andrew Holland, join Chicago Tonight to discuss how mitigating climate change can help keep the United States safe.
Watch Obama's commencement speech.