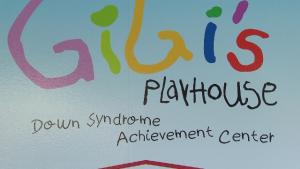 Three-year-old Kaitlyn stays close to her mom at Gigi's Playhouse in Hoffman Estates. But soon many of the children are captivated by the parachute material floating above their heads. All of the children in this preschool program have been diagnosed with Down syndrome—the most frequently occurring genetic condition in the U.S. Christine Loukuta was given her daughter's diagnosis at 3:00 am after her daughter's birth.
"I was balling hysterically, just left there, just left there in darkness," Loukuta said. "It was an awful experience."
Nancy Gianni had similar feelings when she was told of her daughter's Down syndrome diagnosis 12 years ago.
"Panic. Devastation. Fear," Gianni said. "Just scared for her and for my family."
Gianni did not want another family to go through what hers had gone through. She designed a program to provide free supportive services for those with Down syndrome. Named after her daughter, Gigi, the first Gigi's Playhouse opened in Hoffman Estates. Today, there are Gigi's Playhouse Achievement Centers in 23 states in the U.S. and Mexico with plans to add seven more by the end of the year.
"We give them hope. We give them belief, and we give them programs from prenatal diagnosis through career skills," Gianni said.
Gigi's Playhouse has made a world of difference for Christine Loukuta and her daughter.
"They gave me all the steps, all the tools, all the skills that we need for Kaitlyn are right here," Loukuta said.
Doug Sokulski is delighted as his 2-year-old daughter gives bubble blowing a try. Though she may not know it, blowing bubbles will help strengthen the muscles around her mouth and tongue. An essential part of the program's goal is to improve speech and communication for those with Down syndrome.
"Grace gets to come here and socialize with her peers, and we get to also meet wonderful families and kind of collaborate and talk about what we're going through," Doug Sokulski said.
Gigi herself is a model of how much progress can be made. Now 12, the founder's daughter works hard on her speech and has developed easily understandable communication skills. She credits her progress to her mom.
"I love her as my best friend," Gigi said.
"My dreams for her are unlimited," Nancy Gianni said.
Right now, all programs at Gigi's Playhouse are handled by volunteers and are all free. One of the most critical and popular programs is the exercise program.
"Like a diabetic needs insulin, our kids need fitness and therapy," Nancy Gianni said. "They have low muscle tone. They need help to build their muscles every single day."
Literacy programs continue through adulthood. This 36-year-old woman had never spoken until she came to Gigi's Playhouse two years ago. Now, she can communicate and has moved on to understanding basic math skills with her volunteer tutor.
After age 18, students attend Gigi University, where more advanced literacy and math skills are taught.
Gigi University graduates transition into an internship here in the Hugs + Mugs store, a critical step for entering into the job market and hopefully independent living.
The Hugs + Mugs store is open to the public and sells light foods and mugs made by Gigi's Playhouse students. Aubrey Soukup has learned to run the electronic cash register and says the experience should help her in the job market. 
"It's important because when you leave Hugs + Mugs, you will get the opportunity to get a great job, and people can see if you make a resume people can see that I work in a high standard place like this," said Aubrey Soukup.
Funding for Gigi's Playhouse s comes from individual and corporate donations. The Chicago architectural firm of Perkins + Will designed the space and developed its look for this new Hoffman Estates site in 2013. The firm's pro-bono contribution equivalent to 52 weeks of work .The design divides the space into zones—the expressive zone for play in this large room and the reflection zone for learning the smaller rooms. The design is now in seven locations and is working so well that it will be used for all future Gigi's Playhouses.
"It is serving as a model to other locations as well," Julie Michiels, Perkins + Will architect, said. "They've put together a playbook or a kit of parts for other locations as they open to use. So we think they're seeing a lot of success as being able to support new playhouses as they come online"
At some point, Gianni says, professional staff members may be needed to meet the ever-increasing demand for services for those with Down syndrome. But for now, volunteers and parents are filling the gap and changing lives in the process.