Most scientists believe that climate change is real and man-made, but the policy debate over how to address the problem is often lacking in conservative voices. Former U.S. Rep. Bob Inglis, a Republican, has been an advocate for free-market solutions to climate change. Inglis joins Chicago Tonight for a conversation.
---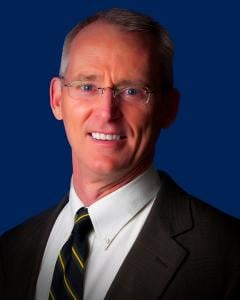 When he first served in Congress from 1993 to 1999, South Carolina Republican Bob Inglis thought climate change was "hooey" – a figment of Al Gore's imagination.
When Inglis decided to run again for the House in 2004, his eldest son – an 18-year-old, newly minted voter – warned his dad that he'd only vote for him if he cleaned up his act on climate change. Inglis describes that as the first step in his "metamorphosis" into a conservative Republican who also acknowledges that climate change is real, man-made, and a problem the U.S. must work to tackle.
He lost his re-election race in 2010, and Inglis now leads the group republicEn, advocating on behalf of conservative-minded solutions for climate change. He hopes to shift the conversation that Republicans have about the environment.
"The way the question is normally presented, especially to conservatives, is 'Do you believe in climate change?' And of course, answering in the affirmative in front of conservative audiences is very dangerous," he said. "What we hope to do at republicEn is change the question to, 'Can free enterprise solve climate change?' That's a very different question, and it can be answered in the affirmative without alienating the speaker from the audience, because conservatives believe free enterprise can solve any problem, even a problem that you don't have."
Inglis advocates for reducing income tax – income being something, he argues, we want more of – and instead taxing emissions, something we want less of. From his perspective, Republican resistance on climate change can be attributed to a very human instinct; when presented with an unpleasant solution, we decide the problem isn't real instead of addressing it.
"If I'm your doctor and I tell you we have a plan for your back problem: we're going to remove your head, work on your spine, and then replace your head, you'd say, 'Thanks doc, I actually think I feel better,' because the solution is crazy," he said
Since many of the proposed climate change fixes are "anathema" to conservatives, he says, they simply act like it's not happening. But with the support of like-minded conservatives, including three former Reagan advisers, Inglis hopes to shape the conversation and bring conservative voices who want to solve climate change.
In May, Inglis was awarded the John F. Kennedy 2015 Profile in Courage Award for reversing his position on climate change after extensive briefings with scientists. Watch a video of his acceptance speech.