As Gov. Bruce Rauner and the Democrat-controlled General Assembly continue to battle over the state's budget, we talk with former Republican Gov. Jim Edgar (1991-1999) about the state's pension-funding plan he signed into law, how he worked with Democrats in Springfield, and what advice he has for the governor. 
---
A budget for fiscal year 2016 was supposed to be approved by May 31, but Gov. Bruce Rauner and legislators were unable to agree on a budget plan. In February, Rauner unveiled his budget, which included cuts to transportation agencies and higher education, as well as a reduction in the amount of money the state gives to municipal governments.
In addition to cuts, Rauner called for a series of reforms which he outlined in The Illinois Turnaround agenda. While Rauner has scaled back the number of reforms he wants passed along with the budget (he's still holding out for a freeze on property taxes and workers' compensation reform), he's maintained he won't consider a tax increase without reforms.
House Speaker Michael Madigan has said Rauner shouldn't tie the budget-making process to "non-budget" issues outlined in Rauner's turnaround agenda. And in the last days of the spring session, Madigan and Democrats passed their own budget (a $36.3 billion spending plan that's about $3 billion short).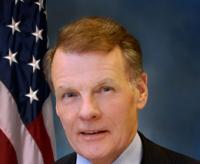 While the bill has yet to reach Rauner, he's said he would not sign it: "There is an interest in passing an unbalanced budget and trying to push a significant tax hike onto the people of Illinois," Rauner said in late May. "For me, that is completely unacceptable. It's unreasonable. We've already had phony budgets in the past. I cannot sign a fake budget, a phony budget, an out-of-balance budget."
In response, Madigan pointed out that Rauner's own budget plan counted on $2.2 billion in savings from pension reforms that were unlikely to pass, especially in light of the Illinois Supreme Court's ruling that found the 2013 pension reform law unconstitutional.
After the Madigan-Cullerton budget was approved, Rauner's administration issued a press release outlining the steps it's prepared to take in response to the budget. Those actions include cuts to several state agencies, including the Department of Transportation and Department of Human Services.
Last Thursday Democrats passed a workers' compensation reform bill which passed without any Republican support, according to the Chicago Sun-Times. The bill comes a month after a Senate panel voted down Rauner's proposed workers' compensation reforms. While Madigan has said the bill was a compromise with Rauner, the governor has decried the measure as "putting politics ahead of the people."