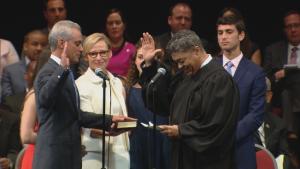 Today Mayor Rahm Emanuel and the city's 50 aldermen took the oath of office, as dignitaries like former President Bill Clinton and former Mayor Richard M. Daley looked on. The ceremony was lighthearted and festive, a clear contrast to the daunting work elected city officials now face.
For one day, the city's beleaguered financial picture took a backseat to pomp and circumstance. The oath was administered in front of family, friends, supporters, and dignitaries at the Chicago Theater this morning.
One of those dignitaries – Bill Clinton – entered to a rousing standing ovation. Former Mayor Richard M. Daley also took a seat on stage, and also received a healthy round of applause, despite the general consensus that a lot of the city's financial problems were inherited from his administration.
Emanuel in his inaugural speech thanked Daley for his service before declaring that the current council did not cause the city's financial problems.
His speech mostly eschewed talk of city finances and focused almost entirely on the city's youth, claiming he wanted to prevent another generation of youth lost to gangs, guns, and drugs.
"The adolescents I am addressing are often untouched by government programs," Emanuel said. "Their school is the street and their teachers are the gangs. When young men and women join gangs in search of self-worth, we as a city must and can do better. When young men and women turn to lives of crime for hope, we as a city must and can do better. When prison is the place we send young boys to become men, we as a city must and can do better.

And when too many of our neighborhoods see a sign on the American Dream that says "Do Not Enter," we as a city must and can do better. We cannot afford to deny another generation of adolescents the values, expectations, and opportunities that the rest of society and the rest of our city share as a common foundation. We see broken families and broken communities, broken politics and broken spirits across the land – and too often, we turn the other way. These problems did not originate in Chicago, but because of our unique history of civic engagement, Chicago is uniquely positioned to point the way to the solution."
Watch Mayor Emanuel's inauguration speech, and read the transcript.
And the mayor says he hopes the solution comes from a more cooperative relationship with City Council allies and foes alike, a council where the main opposition group has grown.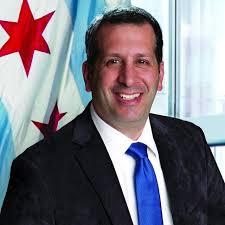 "We have to be an empowered City Council, and the voters told us that," said Progressive Caucus Ald. John Arena (45th Ward). "They rewarded us by giving us another term and growing our numbers."
The progressive reform caucus now counts 11 members, up from about 7-8, and today they issued their list of policy priorities, which include: 
An elected school board
Workplace reforms like mandated earned sick leave and parental leave for employers
A call to hire 500 new police officers
And they say they want to make the wealthy pay their fair share to shore up the city's finances
But all returning aldermen acknowledge they have some difficult decisions over the next several months to get the city's finances in check and deal with the $20 billion underfunded pension system. And collaboration will have to replace rubber stamp. 
"Aldermen need to come up with their own ideas. We can't just be 'yes' or 'no' to the mayor's ideas," said Ald. Proco Joe Moreno (1st Ward). "I have a few ideas in terms of property tax increases to give relief to middle- and low-income property owners, so that's on the table as are others from other aldermen."
Ald. Will Burns (4th Ward) acknowledged the political unpopularity of decisions he and his colleagues will have to make in the coming months, with the city's credit rating mired in junk status.
"We have decisions on how we're going to balance our budget and live up to our pension obligations," Burns said. "They're decisions that might offend retirees, annuitants, and taxpayers, but we're all in this together. And I believe if you explain decisions to people and you walk them through the facts, they normally come down the same place you are."
After the ceremony, the mayor held court in his fifth floor office at City Hall for a meet and greet with residents. On Wednesday, the new council gets down to official business at City Hall as the next several months promise to be hectic.