With nearly 800 special funds operating outside the state budget, it might be a daunting task to oversee. Gov. Bruce Rauner is sweeping about $1.3 billion out of these funds to balance the budget. Who benefits from these funds and how are they being impacted? Eddie Arruza sits down with several budget watchdogs. Joining us are Madeleine Doubek, chief operating officer of Reboot Illinois, Richard Dye, professor at the University of Illinois Institute of Government and Public Affairs, and Laurence Msall, president of the Civic Federation.
---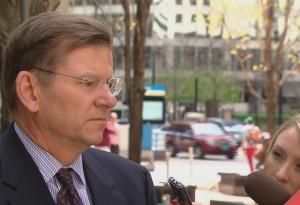 Nearly 800 different state funds contain a total of $9.67 billion of public money. The funds vary, from Fish and Wildlife funds to Mental Health funds.
With a financial crisis and budget shortfall looming over Illinois, $1.3 billion have been swept from these funds to cover the budget deficit.
"It doesn't take much bravery or sacrifice to sweep the funds," said Laurence Msall, president of the Civic Federation. "It would take more to say, 'let's collapse the funds.'"
The funds are monitored by the state comptroller's office. However, there is no single person who analyzes how much money should be spent by certain funds according to Msall.
"It's just not subject to any analysis," he said.
With such little oversight, it leaves the funds under less scrutiny than the general revenue fund. Borrowing or sweeping from these funds will leave many beneficiaries with less operating money than initially intended.
The state Senate has approved two bills that work to make sure these funds get audited every year and possibly work to consolidate the funds. 
Msall agrees with consolidation.
"There's no financial reason to have all these separate funds," he said.