Don your best derby hats for charity; go fly a kite with your kid; and laugh with Chicago's own Jeff Garlin. Chicago Tonight has your weekend picks.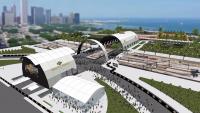 Draft Town
Grant Park
337 E. Randolph St.
Chicago, IL 60601
For the first time in half a century, the NFL Draft will be held in Chicago. As the Bears and other teams pick their players in Roosevelt University's Auditorium Theatre, fans can gather in Grant Park for a three-day festival celebrating all things football. Draft Town activities include live music, food, autograph sessions, games, draft viewing places, and chances to win free tickets to enter the auditorium.  The event is free and runs Thursday, April 30 through Saturday, May 2. Watch a Chicago Tonight segment on the 2015 Draft and an interview with Bears' Chairman George McCaskey.
4th Annual Kentucky Derby Celebration
House of Blues
329 N. Dearborn St.
Chicago, IL 60655
Don your best derby attire (hats are encouraged) to the Lymphoma Research Foundation's 4th Annual Kentucky Derby Celebration. Cheer on your favorite horse and jockey at the House of Blues, and enjoy a silent auction, raffle, and buffet. Prizes will be awarded to the finest hat and best dressed gent. CBS 2 Chicago's Derrick Blakley emcees Saturday's event, which begins at 2:00 pm and is raising funds for lifesaving lymphoma research. Attendees must be 21 and older.  Tickets cost $100.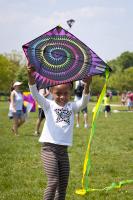 Kids and Kites Festival
Cricket Hill
Lake Shore Drive and Montrose Avenue
Chicago, IL 60640
Oh, go fly a kite! This family event gives kids the chance to make their own kite and see it up in the air. Ground activities include face painting, balloon artists, and a piñata-like candy kite drop. Professional kite makers and fliers will display their skills and goods as well. The event is free and runs 10:00 am to 4:00 pm on Saturday, May 2.
Jeff Garlin
Zanies
5437 Park Place
Rosemont, IL 60018
Chicago native Jeff Garlin, famed for his role in Curb Your Enthusiasm, takes the stage at Zanies Comedy Club in Rosemont this weekend. The multitalented comedian got his start at The Second City and currently stars on ABC's The Goldbergs. He performs at 7:00 pm and 9:00 pm on Friday, May 1 and Saturday, May 2. Admission starts at $25. Watch a 2013 Chicago Tonight interview with Garlin.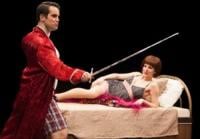 Anything Goes
The Marriott Theatre
10 Marriott Drive
Lincolnshire, IL 60009
Cole Porter's classic Anything Goes is a raucous musical about a love triangle between an heiress, a stowaway, and a lord abroad an ocean liner – a romance filled with more laughs and dance numbers than sapphire pendants and icebergs. Since its premiere in 1934, the musical (heavily revised from a book by P.G. Wodehouse) has enjoyed several revivals, including a Tony-winning Broadway run in 2011. The Marriott's production runs until May 31 and tickets start at $50.Watch Chicago Sun-Times theater critic Hedy Weiss review the musical and other plays on local stages.