In advance of this week's NFL Draft in Chicago, Bears' Chairman George McCaskey sits down with Phil Ponce to talk football. McCaskey will talk about all the changes at Halas Hall this offseason and what Bears' fans can expect this year. He also addresses some recent NFL issues and controversies, including questions about concussion care and domestic violence awareness. 
---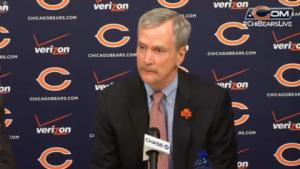 After a sometimes hard-to-watch 5-and-11 season in 2014, the Chicago Bears shook up its staff. Head coach Marc Trestman and General Manager Phil Emery were both let go. Emery was replaced by untested Ryan Pace, who's spent 14 seasons in the front office of the New Orleans Saints. 
The new coach is John Fox, who previously led the Denver Broncos and the Carolina Panthers. The team hopes the young gun and the veteran can help turn the team's fate around, after a year that left owner Virginia McCaskey "pissed off."
Other offseason moves have included a one-year deal for defensive end Ray McDonald, who landed the job after he flew himself to Chicago for a one-on-one conversation with team chairman George McCaskey. McDonald's faced an accusation of domestic violence, but has been cleared by the NFL for violations of its conduct code. Prosecutors have declined to press charges. Still unresolved is an alleged case of sexual assault last year.
Issues of player conduct – and of player safety, as awareness of concussions and long-term brain damage has increased – have become a larger part of the conversation around the NFL, which is gathering in Chicago this week for the NFL draft. It's been 50 years since the draft came to town. Some sports watchers have speculated that the Bears may try to trade picks to draft a quarterback in the first round.