Most people think of board games and puzzles as kid stuff, but they have become serious business in Chicago. These days, Chicagoans looking for a cerebral night on the town can drop in for a round of Dungeons and Dragons at a bar or get trapped in a room with a ravenous zombie and have to puzzle their way out. We'll hear from four players in the Chicago game and puzzle scene about where you can indulge your inner game geek. Joining us are Sandor Weisz from The Mystery League, David Zoltan from Geek Bar Beta, Jessica Tylkowski from Cat & Mouse Games, and Maren Rosenberg from Room Escape Adventures.
---
Check out Weisz's puzzle and post your solutions in the comments below!
Take an extra base
Encoded in the scorecard below is a word or phrase that describes something we all hope to see at a game.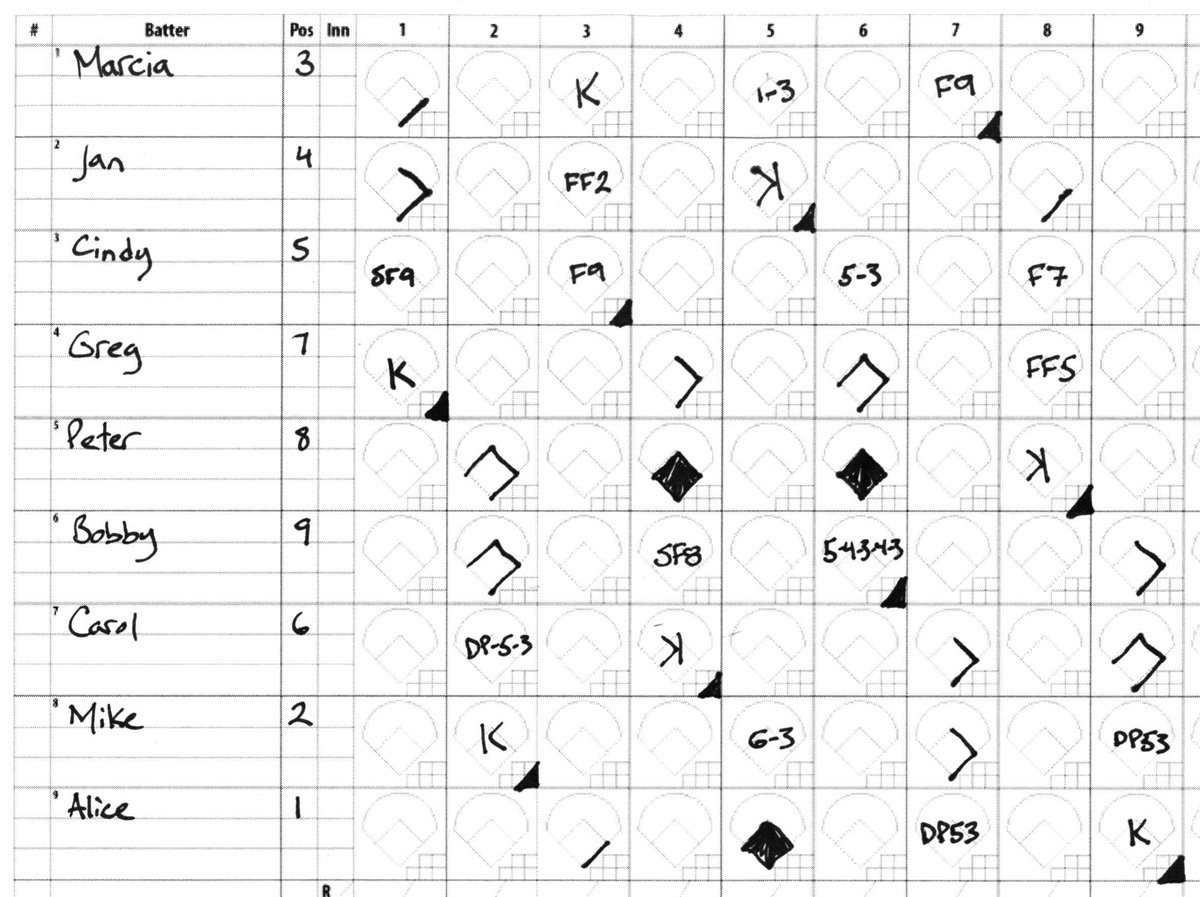 ---
We talked with Mary Couzin, CEO and Founder of the Chicago Toy & Game Group, which hosts the Chicago Toy & Game Fair (ChiTAG), about her part in creating Chicago's game scene and where she sees the scene going in the years to come.

You founded ChiTAG in 2003; what made you do it?
I started as a board game designer 20 years ago, and later started Discover Games as a sort of incubator to help other designers bring games to market. When I went to the Essen Game Fair in Germany and saw what a public game and toy show could look like – we had hobby shows, but we didn't have shows that drew that many people, especially families – I wanted to bring something like that to the States.
Were you a big game player as a kid?
I wasn't really, but before I started designing games, I had a friend who worked for Western Publishing who would bring down prototypes and would talk about the game designers. I really would get into the stories about how they were created. I was in real estate at the time, but I thought, hey, I can create games. So I just started designing them. Some of my early games were Hollywood's Reel Schpeel (a movie trivia game) and Fraction Action, which my daughter actually designed and went to schools and the education market.
How long does it take to develop a game?
It really depends – it's a lot like other creative endeavors. Sometimes it just pours out of you, sometimes it can take years. And it's a funny thing – if you sell a million CDs, you're on the cover of Rolling Stone; if you sell a million books, you're on The New York Times bestseller list; but if you sell a 100 million toys or games, no one knows who you are! Part of our big picture is to promote play through inventors with things like our Young Inventor Challenge, so we think about them like their creative counterparts in film, books, chefs, to put a face with the product itself. Think about how 20 years ago the housewares show was really boring, but you go now and it's exciting because products are tied to people like Rachael Ray. The toy and game industry has been slow to catch on to that.
What makes Chicago a good place for game and puzzle enthusiasts?
Chicago is the toy and game invention capital of the world! Marvin Glass invented the idea of inventing toys and games in the '50s and changed the industry. He never invented anything himself but he had 70 people inventing for him. When he died in the '70s, all those partners split up and started their own firms, and a lot of them are still in Chicago – Big Monster Toys, Rehkemper Invention & Design, Lund and Company.  When I was trying to get Mayor [Richard M.] Daley to officially name Chicago the Toy and Game Invention Capital of the World, I was told the largest percentage of royalties (in the toy and game industry) flows through Chicago. And that was all because of Marvin Glass, because he started it all here. Mouse Trap, Inch Worm, Ants in the Pants, Operation, Lite Brite – the history here is deep and incredible.
What's the community like? Does everyone know everyone else?
People in this industry really have each other's backs, because they know how hard it is to get something out there and you become good friends because of that. I know I'm close with a lot of people – that's because of the Internet, we've got Facebook groups and Yahoo groups, and you'll see everyone on there. We also have a reputation here in Chicago because of all the events we put on and because our community is so tight. And also you're playing games and toys with your friends! Anytime you play a game together, you bond with someone. It's like when kids play games with their parents. They'll tell you anything because they're playing the game and they're not thinking about what they're saying.
What do you see for the future of the game and toy industry in Chicago?
It's just going to get bigger and bigger all the time. Our goal is to have ChiTAG become the South by Southwest of play. We have a fashion component with PlayCHIC, we're going to be adding in music, and a big digital component this year – anything can be playful. Essen Game Fair gets 150,000 people, there's another festival in Cannes celebrating play that gets 150,000 people – I want to not just get that many people to ChiTAG but also get Americans to see play as something important. Think about some of the most successful companies out there, like Google – they have play as part of their culture – if you go out there, they have playful spaces everywhere because it gets your creativity going. We also have a website called Games for Educators because when you make learning fun, it sticks. I want Chicago to be the place for people to be playful, and it's growing. People have heard about the Chicago Toy & Game Fair all over the world. I'm so passionate about this. I really think that if people would just sit down and play a game together, they would find out they have more in common than they think.
Interview has been condensed and edited.
---
Want to know where to get your geek on? Check out a map of Chicago game and puzzle locations.
Note: The Mystery League is not included in the map because it lacks a specific location, but they do host monthly Puzzled Pint parties at different locations around the city.
-- Map created by Yasmin Rammohan