Author and broadcaster Scott Simon, longtime host of NPR's Weekend Edition Saturday, joins us to discuss his new memoir. As his mother lay dying in 2013, Simon took to Twitter to talk about her passing and the lessons she taught him. The stories he shared struck a nerve. Now, Simon has written a book about his mother's life and death and the bond they shared. Simon will be speaking Thursday at 6:00 pm at the First United Methodist Church at The Chicago Temple downtown as part of the Chicago Humanities Festival.
---
On July 16, 2013, Scott Simon tweeted: "Mother called: 'I can't talk. I'm surrounded by handsome men.' Emergency surgery. If you can hold a thought for her now..."
That tweet was the beginning of a series of posts that were part-diary, part-tribute, both funny and heart-wrenching. Simon's mother Patricia died in a Chicago hospital less than a week later.
Later that month, Simon told host Audie Cornish on NPR's All Things Considered, "I must say, among the millions of people we've been hearing from are, of course, NPR listeners. And it means a lot to our family because they all seem to say that they're not just giving condolences to me as someone they know, but that something my mother said meant something to them. It's pretty gratifying."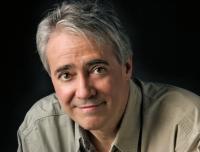 Simon also told Cornish that he and his mother spent a great deal of her last days in the ICU singing to one another.
"The song that kept popping up and we kept singing to each other, is Nat King Cole singing 'Unforgettable' and I will hear that song again for the rest of my life and I bet I will sing it to my wife and sing it to my children. I will never hear that song without thinking of my mother," Simon said.
That song became the title of Simon's new book about his mother.
Read an excerpt from Unforgettable: A Son, a Mother, and the Lessons of a Lifetime.
The Wicker Park Choral Singers will give the world premiere performance of a work called "how little time we have: tweets from the ICU" based on Simon's tweets on May 2 and May 3.