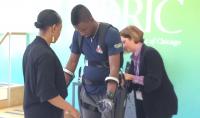 A high-tech new medical device is helping a paralyzed Army veteran walk again. He's the first Chicagoan, and one of only 55 people worldwide, to use the ReWalk Exoskeleton, a wearable, robotic device designed to allow independent standing and walking for people with spinal cord injury.
Today, RJ Anderson is taking it step-by-step.
"The doctor told me I would never walk again. I was technically a quadriplegic. I broke my neck," said Anderson.
Though the 32-year-old seems to be proving his doctor wrong, he isn't walking fully on his own. He's using a device called the ReWalk Exoskeleton.
"It's allowed me to walk again, and that's huge. My hopes are to transition home with it, and to be able to use it in the community, to be able to walk to the store if I want to," said Anderson. "To use it in my home, to stand up and cook, to stand up to reach things. I'm 6'1". I like to be at eye level."
Just over two years ago, Anderson was serving in the Army's Special Operations Aviation unit, stationed at Fort Campbell near Nashville, Tenn. when a motorcycle accident left him paralyzed from the neck down.
He's been recovering and training at the Rehabilitation Institute of Chicago since his accident.
"Being focused on myself was not the main goal, it's to just enjoy life," said Anderson. "It made everything that much better once I decided to just let go and relax."
He may be relaxed mentally, but learning how to use the ReWalk is sweat-breaking work.
He operates the device with a wristwatch, telling it whether to be in sit, stand, or walk mode.
"Then I give it a slight lean, and that lets the device know that I'm ready to take a step," he said.
By tilting his torso forward slightly, the device begins to take steps with braces attached to his legs. When he wants to stop, he just uprights his torso.
The ReWalk is the only exoskeleton approved by the Food and Drug Administration for at-home use.
And Anderson must always have an aide, in this case his sister, helping him out.
"But the device has potential to do stairs and ramps. I think over time as these devices have been evaluated by research and been deemed to be safe, the FDA might approve for more use on stairs and ramps," said RIC research scientist Arun Jayaraman.
Jayaraman explains the benefits of RJ using this device go beyond just being able to stand and walk again. It could also help diminish some of the secondary complications that come from life in a wheelchair.
"Anecdotally, it helps in improving bowel and bladder, preventing pressure ulcers, improving bone health, muscle health, cardiovascular function, which are significant secondary complications because of a spinal cord injury," said Jayamaran. "Because once the neural drive from the brain through the cord is disrupted, it puts your whole system into whack. Over time, all these complications occur. But exercise obviously is a good cure, and when somebody regularly uses a mobility device, they get the additional benefit of working out your system."
Jayaraman says Anderson is a good candidate to take the ReWalk home because of his type of injury and because he's a quick learner.
An anonymous donor made it possible for the hospital to purchase the $70,000 device.
"I think these kind of devices are going to be the norm in the future, but you have to give them time to mature," said Jayamaran.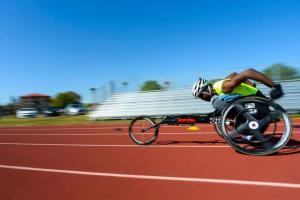 In the meantime, Anderson also finds comfort in competitive sports, with sights set on the 2016 Paralympics in Rio.
"I enjoy just being with being back with my comrades, you know, and just being around that community," he said.
You'll either find him training, or "you'll probably see me walking down the street here soon," he said.
Whichever comes first.
The Rehab Institute of Chicago will be evaluating RJ Anderson every three months for the next year to find what the long-term benefits might be. Anderson is taking the ReWalk home with him this week.
-- Slideshow photos courtesy of Roosevelt Anderson