This past weekend, at the Paralympic Games in Sochi, the U.S. sled hockey team won the Gold Medal. Two members of that team -- Brody Roybal and Kevin McKee -- were from Chicago and were featured in Jay Shefsky's profile. Watch the video and read an article.
---
The gear that a sled hockey player puts on for a game is pretty much the same as it is for an able-bodied player – with one key difference. Instead of ice skates, there is a sled with blades on the bottom.
Sled hockey is for people with lower limb disabilities, like spinal cord injuries and amputations.
Patrick Byrne has been playing for about 15 years. And he's not only a player -- he's one of the coaches.
"I lost my leg in '92. I was in a construction accident out by River Road and Euclid. It just really changed my life -- actually for the better," he said.
At the time, Patrick says the loss was devastating.
"Now I want to share a story. Before I lost my leg, I looked across the street and I seen a person in a wheelchair, and I seen how she was struggling going around our equipment and everything else, and I said to myself, 'If I was ever in that situation, I think I would rather be dead,'" said Patrick.
And at first, Patrick says he was suicidal. When he woke up in the hospital and learned that he had lost his leg up to the hip, he didn't see how he could go on.
Sled hockey's been around since the 1960s in Sweden. The Chicago team is based at McFetridge Park on the North Side, and travels for league play all around the country.
The program is run by the Rehabilitation Institute of Chicago, or RIC, with space provided by the Chicago Park District.
One of the better players is 14-year-old Brody Roybal. 
"I tried wheelchair basketball, didn't really like it. Tried wheelchair softball, didn't really like it. This? It's really aggressive. I like it," said Brody.
We wanted to get an idea of what the game is really like on the ice so we asked Brody to wear a camera on his helmet during a scrimmage. Watch the web exclusive video:
For a while, we also mounted a camera on Patrick Byrne's sled. Patrick says that before his accident, he was never much into sports. But sled hockey - and other sports - have changed his life.
Erica Mitchell says she remembers the day in 1997 that Patrick reluctantly gave hockey a try.
"My coach told me to treat him like everyone else, so he was on the ice, so I hit him," she said.
Patrick was a 32-year-old former construction worker, and at the time, Erica was 12 and had already been playing sled hockey for three years.
"No sooner was I on the ice and Erica just comes barreling across, and she just labels me, and I'm like 'you can't do that!' And here I am laying here, like you're a hockey player!" said Patrick.
Today, Erica, who's been disabled since birth, is 25 and she plays on the national women's team. Her father has been the equipment manager since she started.
"It's rough, isn't it? Do you see how they hit each other?" said Erica's dad. "But, you just got to suck it up. When you play in some of these tournaments, like when they go to Canada and they go to Buffalo and stuff, it's unbelievable, some of the hits. I mean, there's blood sometimes."
So, how is this different from regular hockey?
"Only way this is different from regular hockey: regular hockey uses their legs. We're using our arms," said Patrick.
One other difference: each player has two hockey sticks.
"You have a right-handed stick and you have a left-handed stick," said Patrick. "It's just a blade that's on the end of it. And then on the other end, you're going to have picks. You want to try and grab the sticks as high as you possibly can to push off. Now when you want to shoot, we got to go from the top to the bottom of the stick. Now when I want to take off again, you have to try and get back to the top of the stick again in order to try to keep going."
Patrick Byrne played on the 2002 U.S. sled hockey team at the Paralympics. The team was a long shot; in fact, they were only playing because the U.S. was hosting the games. But they came back with gold.
"Words can't even describe it. The only thing you can do is… the tears start rolling. It's just like, 'did we just win the gold?'" he said.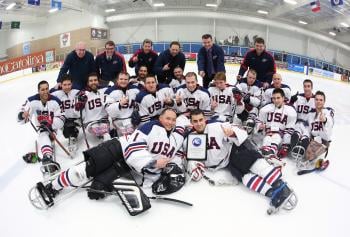 Today, several members of the team play at the international level, including Kevin McKee. He won silver with the USA team at the 2013 world championship in Korea. 
"It was a lot of fun. I mean, it was a good competition," said McKee. "It was the best eight teams in the world. And we just went out there and played, and everyone was real good. So, it was a very fast-paced game."
At the local level, able-bodied friends of the players sometimes strap themselves into a sled and play. But at the national level, players have to be disabled. 
In fact, sled hockey may be the only place where being a double amputee is a real advantage.
"Brody, right now, he's got a huge advantage. The shorter your sled, the better off you're going to be. You can spin on a dime." said Patrick. "In the USA sled hockey team right now, I'd say 90 percent of the guys are actually double amputees. Except for the goalies. That's when you want a leg out in front of you when you're a goalie to try to block that net."
The RIC Blackhawks get their funding from those other Chicago Blackhawks. And the meeting with then-Hawks owner Bill Wirtz was Patrick's idea.
"We explained the whole game to him, and he looked at us like: 'are you guys kidding me?' And I'm like, 'sir, no' and he's like, 'what do you guys need?' And I went, 'mainly money,'" said Patrick. "The great thing about sports that I love -- and a lot of the guys here love -- it makes you feel like you're not disabled."
Bob Roybal, Brody's dad, says hockey has been good for his son.
"It's been awesome for him. It's given him self-confidence. I mean, he's really good and he loves it more than anything," he said. "His life is hockey."
"If I had two legs today, where would I be at? Would I be married today and have three kids? Have a gold medal? Would I have ever met the guys that I've met out here? No, I wouldn't," said Patrick. "I'm so thankful that I didn't do anything crazy back in the beginning."
As much as Patrick Byrne loves sled hockey, he says his favorite sport is golf. Soon after the accident, his golf-loving father encouraged him to take up the sport as a way to develop balance and overcome his fear of people staring at him.
In addition to the sled hockey team at McFetridge Park, there is another team in Lake Forest.
The RIC Blackhawks had their first practice for this season Wednesday night at McFetridge Park and the games begin in October. They're open to the public. Click here for a full schedule.