Chicago's 2nd Ward has been significantly remapped and includes a diverse array of neighborhoods, from parts of downtown Chicago to Wicker Park and Ukrainian Village. We'll host a conversation between Brian Hopkins and Alyx Pattison, the two candidates for alderman who will face each other in an April 7 runoff election.
---
Click the dots in the image below to read candidate bios.
---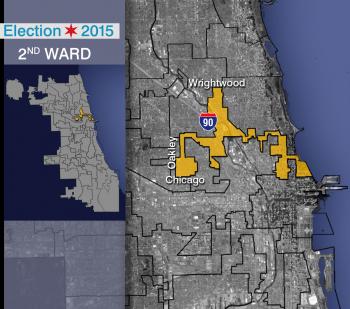 2nd Ward
A Change in Borders
The 2nd Ward was heavily altered by the new ward boundaries approved by City Council in January 2012. This ward previously stretched across the South and West Loop neighborhoods but the remap has moved its boundaries north, incorporating the Gold Coast, Ukrainian Village and portions of surrounding neighborhoods. The resulting boundary outline resembles a fragmented horseshoe. The incumbent, and soon-departing, alderman of the ward, Bob Fioretti, said that the ward remap was passed "to set [him] up for defeat" at a Wicker Park Committee meeting in April 2013. Fioretti, who placed fourth in the recent Chicago mayoral race, no longer lives within the ward's new boundaries and isn't seeking aldermanic re-election.
Different Voters, Different Views
The 2nd Ward's population is over three-quarters white. While that may suggest a lack of diversity, the ward is less homogenous than you'd think. The new boundaries sprawl across several neighborhoods with varying demographics and landscapes. To the east, the 2nd Ward encompasses the towering skyscrapers of the Gold Coast. Along its western boundary, the ward includes a good chunk of the Ukrainian Village neighborhood, home to many Ukrainian and Hispanic working class families. Whoever is elected alderman of the 2nd Ward will face a challenge in aligning the interests and concerns of these diverse constituents.
Attractions
The chief economic instruments of the ward are its assortment of restaurants, bars, coffee shops and retail stores. The landmark Drake Hotel and the storied Hideout bar and music venue are within the ward's boundaries. The Moody Church, a historic Protestant church in the Lincoln Park neighborhood, is one of Chicago's most prominent places of worship. The church is among the country's largest built in the Romanesque architectural style.
---
Both candidates were sent questionnaires to fill out and send back to us. Read their unedited responses below.
Brian Hopkins

Age: 53

Place of Birth: Chicago, IL

Current neighborhood: Streeterville

Family: Colleen (Wife), Barbara (Mother), Karyn Simchak (Sister)

Occupation: Chief of Staff, Cook Co. Commissioner John Daley (20 years)

Previous political experience:

I am a first-time candidate. Previously, I served as the Downstate Campaign Manager for Dawn Clark Netsch during her run for Governor in 1994, and as a staff member with the Illinois State Senate Appropriations Committee from 1988-1989.

What is your vision for the 2nd Ward?

Bringing representation back to neighborhoods that have been divided by the remapping process over the last 20 years, and developing leadership and trust among residents that the Alderman will fairly serve every neighborhood. I've pledged to develop a Ward Master Plan, and the plan will be guided by input from neighborhood associations, residents, and business leaders across the Ward. This plan will create accountability to ensure that development needs across the Ward fit the character of a neighborhood and the vision of its neighbors, to spur smart economic development throughout the Ward, and further define the 2nd Ward as the greatest place to live, work, and raise a family in Chicago.

What is the most pressing issue in your ward?

Crime and public safety is the number one issue on the minds of 2nd Ward residents. I've pledged to hire 1,000 new police patrol officers to keep our neighborhoods safe, and help alleviate staffing shortages in the neighborhood when patrol officers are shifted into higher crime areas. By cutting the CPD overtime budget by 25%, we can hire 250 new officers.

What is your plan for fixing Chicago's financial situation?

I served as the budget analyst to the Chairman of the Cook County Finance Committee, and worked with President Preckwinkle to get the County budget back on track through budget cuts and cutting the county sales tax. Looking at waste and duplicative programs is a first step in pairing back the size of the city budget. A property tax increase is not the solution to fixing our financial crisis, and is not something I will support.

How do you think the city has handled the severe weather this winter?

This was the fifth-largest snowfall accumulation in the city's history, and in that context it was well-done. More should have been done to shift resources to the cities' side streets – especially around neighborhood schools not located along arterial routes. When schools were reopened, many streets weren't adequately cleared to accommodate for school buses and parent drop-offs. I witnessed a school bus get stuck in Noble Square as it attempted to navigate an unplowed side street, and a plow truck that had to detour its route through the neighborhood because of the logjam of cars.

Do you support Mayor Emanuel or County Commissioner Garcia in the mayoral race?

I voted for Mayor Emanuel on February 24, and I intend to vote for him again on April 7.

What is your favorite restaurant in Chicago?

In a city known for a wide variety of fine dining options, I'd have to say RJ Grunts. RJ Grunts is credited with inventing the Salad Bar, and the original salad bar is still in use to this day.
Alyx Pattison

Age: 40

Place of Birth: Magna, Utah

Current neighborhood: Ukrainian Village  

Family: Single

Occupation: I am currently a full-time candidate, but previously worked as an attorney.

Previous political experience:

Aide to Congresswoman Jan Schakowsky; currently serve as a community representative on the Local School Council of Jose de Diego elementary in Wicker Park. 

What is your vision for the 2nd Ward?

As Alderman, economic development and job creation will be priorities of mine.  The Second Ward is uniquely positioned to create jobs and generate significant economic activity for the city in two ways:

First, it is a ward with important cultural and economic significance to Chicago.  It is home to renowned Chicago arts institutions such as Lookingglass and Royal George Theaters, along with the Museum of Contemporary Art.  It has fabulous Chicago restaurants and hotels located in its boundaries, like Michelin-rated Schwa in Wicker Park, and The Drake.  The ward's shopping destinations include Water Tower on the east as well as funky locally-owned boutiques on the west.  Its Bucktown boundary is one block south of the new 606 Chicago, which will not just rival New York's High Line, it will put it to shame.  And, because of its proximity to the 606, it is getting a new high-rise boutique hotel at the corners of North, Milwaukee and Damen that will bring tourism to western neighborhoods in the ward. Its eastern border is Oak Street Beach, making it the gateway to Chicago's lakefront.  These are only a few of its highlights.  It is a ward that could be leveraged, with my leadership, to advance Mayor Emanuel's aggressive, but doable, tourism goals, which I support both for their job creation potential and also as a source of desperately needed revenue.  I would work diligently and aggressively with hotels, restaurants, labor, the Mayor's office, Choose Chicago and neighboring colleagues to promote tourism and plans to move tourists beyond downtown and into our neighborhoods where they will shop, drink, dine and support local business.  The Second Ward provides a unique opportunity to introduce tourists to a broad spectrum of Chicago's neighborhoods spanning from the lakefront almost to Western Avenue.

Second, the Second Ward is home to potentially the largest Northside development opportunity the city has seen in decades – the redevelopment of the Finkl Steel land in the Clybourn Planned Manufacturing District.  As Alderman, I would have significant influence over the direction of that development.  I pledge to use it to impact, in whatever ways possible, the creation of jobs and promotion of sound labor practices and principles by developers who build on that land.  The redevelopment of that Planned Manufacturing District holds the promise and possibility of significant job creation, not just because of the development inside the PMD, but also for the necessary transportation and infrastructure improvements I believe we would need surrounding it.  The land itself could be redeveloped to recruit large business interests to the city and the jobs that come with those interests.  

What is the most pressing issue in your ward?

The two concerns I hear most about are crime and schools.  And, this varies depending on where you are in the Second Ward.  On the west side where young families with school-age children are more plentiful, I frequently hear complaints from ward residents about their fear of sending their kids to neighborhood schools and their belief that they pay enough in taxes that their neighborhood school should be a good viable option for them should they choose to stay in the city.  I also frequently hear that young families believe that if their kids are not able to get into a magnet school, then the only option for them is to leave the city for the suburbs.  Because I believe that local schools are an essential building block of thriving neighborhoods and the key to keeping Chicago competitive well into the future, I will make them a top priority.  I will work with neighborhood organizations, Second Ward families, Chambers of Commerce, teachers, and their union, to develop collaborative relationships intended to strengthen and improve neighborhood schools so they are viewed as options for families tempted to leave the city for suburban schools they believe to be better.  Besides improving schools for the sake of improving schools, we cannot grow and thrive as a city unless we keep those families here and expand the tax base in the city.

With regard to crime, I will use my office to build stronger more connected relationships between police and the people they serve.  As Alderman, I will invite CAPS representatives to be present in my office during ward nights so my constituents can speak with police while they are waiting to visit with me or staff.  I will also invite CAPS representatives to join me at my pop-up offices in libraries and grocery stores.  I will work with all commanders who cover portions of the Second Ward to brainstorm creative ways to strengthen communication between neighbors and the CPD with the hope of reducing crime by strengthening the dialogue between citizens and police.

What is your plan for fixing Chicago's financial situation?

Before I even begin to talk taxes, I would like to give the newly created Independent Budget office an opportunity to advise the City Council, in line item by line item fashion, whether there's room to cut or improve efficiencies in the budget that could save real money.  Before talking taxes, I want to see us scrub the budget in a serious and independent way – separate and apart from the Mayor's view of city finances. 

After conducting that exercise, if additional revenue is needed, which is likely, I believe that the City Council should engage in a robust debate about all potential streams of revenue, including virtually every proposal floated by Aldermen and the Mayor over the last few years.  But, I think the first revenue reform should begin in Springfield.

I support an expansion of the sales tax on services in Illinois. Right now, nearly half of the Illinois economy is exempt from sales tax. As the service sector continues to expand we continue to fail to take advantage of those changing economic conditions. Simply put, Illinois and Chicago have a tax base that's far too narrow and it makes no economic sense. The City's Office of Inspector General has estimated that a sales tax on services could raise approximately $3.5 billion per year in state revenue (excluding healthcare services) and approximately $450 million per year annually for the City of Chicago from its 2.25% share of the state sales tax. That revenue would go a very long way in fixing our current fiscal mess and in funding our pension obligations.

I would endorse, support and use any influence I might acquire as an Alderman to persuade state legislators to enact a sales tax on services at the state level. I would also lobby to prevent Governor Rauner from gouging municipalities through his proposal to reduce Chicago's share of taxes collected by the state.  Chicago cannot take that kind of budget hit right now and Governor Rauner's plan is bad for our city.  

How do you think the city has handled the severe weather this winter?

Overall, I believe the City of Chicago handled the severe weather well given the record snowfall. However, there is room for improvement. For instance, Second Ward residents living on the east side of the ward reported to me that it took hours to get Chicago Avenue and Superior in Streeterville plowed which was problematic, and potentially dangerous, because those streets are used by ambulances and families to get to Lurie Children's hospital and the Northwestern hospital campus.  That kind of on the ground information is the kind aldermen should be reporting back to the city so we do better next time.  

Do you support Mayor Emanuel or County Commissioner Garcia in the mayoral race?

I voted for Mayor Emmanuel on Feburary 24th because I was most familiar with his accomplishments. Going forward, I, like many Chicagoans, will be listening to the each candidate's platforms.

What is your favorite restaurant in Chicago?

Roots Pizza in East Village – delicious lasagna!
Click on the map below for vote percentages in all 50 wards.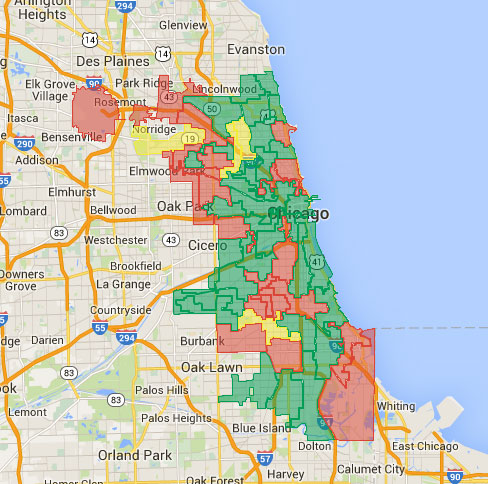 Click the dots in the image below to learn the percentage of votes each candidate received in the Feb. 24 election.
-- Graphics by Kristen Thometz and Linda Qiu; Yasmin Rammohan contributed