White Sox great Minnie Miñoso died on March 1. His birth year has been disputed, however, according to his autobiography, he was 89. His extended playing career and gregarious personality left an enduring impact on generations of ballplayers and fans alike. Miñoso was not only Chicago's first black major league player, but he was the first black professional player to come out of Latin America - Cuba, in Miñoso's case. Joining us to discuss Minoso's legacy is Adrian Burgos Jr., a professor at University of Illinois at Urbana-Champaign who specializes in Latin American studies and baseball.
After joining the Major Leagues in 1949, Miñoso had two obstacles to overcome: integrating into America's pastime as a black man and doing the same as a foreigner. His death comes five weeks after the passing of another Chicago baseball icon, Ernie "Mr. Cub" Banks. While Banks made it into the Hall of Fame, Miñoso did not – a sore spot for many south side fans. Despite this, Miñoso's outgoing and benevolent attitude, as well as his aggressive playing style, endeared himself to countless Chicagoans. He would stay active within the White Sox organization until his death.
Read an interview with Burgos Jr. about Miñoso.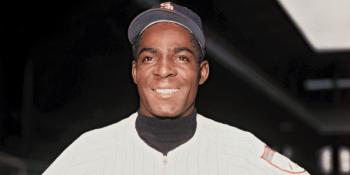 What is Minnie Miñoso's legacy?
His legacy is about breaking through the color barrier in Chicago. It was a challenge for him because he was black and Latino. His legacy speaks to how people can perform under certain circumstances to become an instant sensation. From 1951 to 1961, he was the best player in the American League. In addition to his performance on the field, his legacy is about how he carried himself off the field. He experienced hostilities that he did not speak of at the time. It wasn't that he couldn't talk about them. He just knew that giving voice to that hatred would give it more credence.
He did his talking with his hitting and running. Nobody outplayed him. That's how he built his legacy of the Go-Go Sox. He always gave it his all and he always fought. That's what drew working class white people of the south side to him. Many others throughout baseball came to appreciate his joy for living, his love of the game, and his reminder of the importance of human dignity. As he got older, many people learned about the difficulties of segregation. It wasn't until decades later that these truths became known. These were truths that were well known to the black and Latino community because they had worked to overcome them.
A lot of Chicagoans are disappointed that Miñoso never made the Hall of Fame. Why was that?
I'm a fervent believer that he's a Hall of Famer. There are two dimensions as to why he wasn't voted in and why the significance of his accomplishments has been missed. They fail to realize how difficult it was to accomplish what he did on the field because he carried himself with such joy. They thought he was totally unfazed by it. They tried to treat him as any other Major League player. But he wasn't! He appeared in three All-Star games before a black player was on the White Sox's roster. The baseball Hall of Fame has also had this eligibility rule since the 1970s, when they first started considering black players for the Hall of Fame. The rule is that players can only be considered as a Negro Leaguer or a Major Leaguer. This only affects Minnie and a few other players. I'm perplexed, to this day, that they've never changed this rule. They don't understand how guys like Minnie are left out because they made significant strides in both the Negro Leagues and Major Leagues. This has been one of the significant hurdles for Minnie being inducted.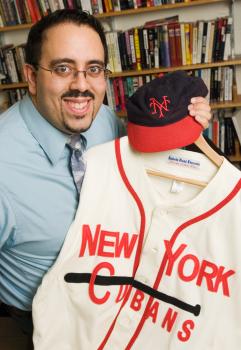 What were some things that made Miñoso stand out?
He played hard. He brought a style of playing popular in the Caribbean and Negro League games to the Major Leagues: the speed game. Whether it was hitting, bunting, running, or how he played as an outfielder, he was fast. He came into the league as a third baseman, but had to play left field instead. He came into the White Sox as a winner of the Gold Glove, which shows that he was a great outfielder. The fact that he mastered his position in such a short period of time is testament to his skill.
He also refused to be intimidated. He hung over the plate and wouldn't back down. He wanted to force the player to get it past him or, in some cases, to knock him down. Minnie brought that style of play to baseball. For the 1951 to 1961 stretch of time, he was hit the most of any American League player.
Why did Miñoso get back onto the field after years of retirement in 1976 and then again in 1980? Were these simply publicity stunts?
What kept Minnie coming back was his love of the game. There's that one song called "Forever Young." Many baseball players wish they were forever young, but Miñoso truly embodied being forever young. That's why he wanted to come back. I don't think Minnie regretted coming back, but I think that sporting press has given much more attention to his returns in 1976 and 1980, and his attempt to come back in 1990, than what it meant for him to break through in 1951 as an integration pioneer.
What's more recent is more familiar to these reporters, but for me, as a historian that's spoken to Minnie and his peers, his breaking the color barrier is more important. Not everyone was welcoming to Minnie in the 1950s – in fact, most weren't. That makes his on-the-field accomplishments that much greater.
Miñoso's death comes about five weeks after the death of Chicago Cubs legend Ernie Banks. It seems like an era of players is passing away. What is passing away with them? How is the game different now?
Before Miñoso, the league was heavily segregated. What we're losing are the men who took on that task with courage and achieved it. Many made possible what others thought was impossible: to break through. Integration was not pre-ordained or guaranteed – even after Jackie Robinson joined the league in 1947. They made the league what it is today: transforming it from a segregated institution to a desegregated institution.
What has Miñoso meant to Latin American players?
Minnie was one of the star players of the 1950s. Many Latin players have said that Minnie was the Latin Jackie Robinson. He had to deal with a double strike: being black and Latin American. Minnie showed those players that you can not only make it, but you can become a star. He did a lot to contest the "hot-blooded Latin American" stereotype of the day.
You met Miñoso. What was he like?
I met him at a number of Negro League conferences organized by the Society of American Baseball Research and a few events organized by the White Sox. The first time I met him was in 1999 when I spoke to him on a panel about the history of Latinos in baseball. It was a wonderful experience to meet Minnie who I had read tremendously about.
He carried himself with grace and dignity. He always had a smile on his face and sought to lift others up. The most direct contact I had with him was in 2011 when we honored him with a Martin Luther King, Jr. award at the University of Illinois. I got to spend a day and a half taking Minnie around the school. I had dinner with him and got to share him with the community. He treated his fans with great respect.
Minnie Miñoso wasn't even his real name. What's the story behind that?
His half-brothers were all Miñoso and since he always hung out with them, they thought his last name was Miñoso, so he just went with it. He played under that name in the Cuban leagues. He wouldn't become Minnie until he came to Chicago.
How did he feel about city?
He loved Chicago. He did not retire to Florida, unlike other Cubans. He felt a connection with the fans and the city. It became his home. It was his home.
How do you think the White Sox or Major League Baseball will honor him?
I know for certain that the White Sox will do something in recognition of Minnie's passing. Right now, they're waiting to follow the lead of the family. This is still very new since he died yesterday morning. The team will probably wait until the season starts so that fans can join in. I don't know what Major League Baseball does. I wouldn't be surprised if the White Sox come out wearing armbands bearing the number 9 for the rest of the season. That's how important Minnie was to the White Sox. He worked with the team up until this past year. He meant as much to the White Sox as Ernie Banks, Mr. Cub, meant to the Cubs. I think the best thing that the league could do is get rid of that eligibility rule that says we can only consider what he's done in the Major Leagues.
Interview has been condensed and edited.
View a timeline of Miñoso's career.
-- Timeline by Linda Qiu
In 2011, Minoso was up for the baseball Hall of Fame. Watch a conversation between Phil Ponce, Adrian Burgos Jr., and others as they examined his credentials from Nov. 17, 2011.
A documentary about Minnie Minoso's life called Baseball's Been Very, Very Good to Me airs tonight at 10:30 pm on WTTW11. Watch the video below.