Hundreds of mourners gathered Tuesday inside New York City's St. Ignatius Loyola Church as former three-term New York Gov. Mario Cuomo was laid to rest. Cuomo died on New Year's Day, from natural causes due to heart failure. He was 82.
In 1995, Cuomo appeared on Chicago Tonight in a one-on-one interview with the late John Callaway where he discusssed what it means to be a Democrat. Watch the interview above.
Gubernatorial Career
Mario Cuomo served three terms as governor of New York, from 1983 to 1994. Throughout the decade, he gained notoriety throughout the country as a skilled speaker and a liberal icon.
As a Roman Catholic, he was personally opposed to abortion, but politically, he was pro-choice on the matter. Cuomo said as much in a 1984 speech at the University of Notre Dame. After the speech, Cardinal John Joseph O'Connor considered excommunicating him from the Catholic church for his position.
However, Cuomo did not support capital punishment, against the norm of the time. His stance was unpopular due to the high amount of crime in New York during the 1980s. While governor, he vetoed several bills that would have re-established the death penalty. Although his successor reversed the law, the statute was declared unconstitutional in 2004.
Another highlight of his time in office was his appointments to the New York Court of Appeals. He appointed the first female, African-American, and Hispanic judges to the court.
In his fourth gubernatorial bid, he was defeated by George Pataki, in the "Republican Revolution" of 1994. Pataki would go on to serve three terms.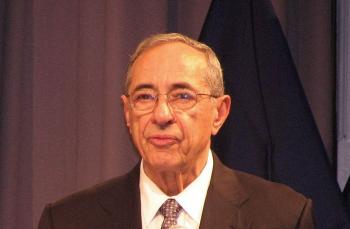 1984 DNC & Presidential Ambitions
Cuomo found himself on the short list of vice-presidential candidates for 1984 Democratic nominee Walter Mondale. Although Mondale eventually selected U.S. Rep. Geraldine Ferraro, Cuomo was selected to give the keynote speech at the Democratic National Convention in San Francisco. His attacks on President Ronald Reagan's policies gained him national attention.
In 1987, he ruled out any speculation that he would seek the 1988 Democratic nomination for president, even after frontrunner Gary Hart withdrew from the race.
In 1991, Cuomo said he had no plans, but did not entirely rule out a possible presidential run. Rather, he said he must focus on passing a budget through the New York State Legislature. On the filing deadline for the New Hampshire primary, he kept an airplane waiting on the tarmac, ready to take him to hand-deliver his paperwork for the contest.
That evening, he delivered a press conference, announcing he would not run, as his gubernatorial responsibilities, particularly the need to pass a budget, came before his presidential ambitions.
Early Life
Cuomo was born in Queens on June 15, 1932. While he was attending St. John's University, he was signed to the Pittsburgh Pirates. His baseball career ended when a baseball struck him in the back of the head.
After graduating from St. John's University, he attended St. John's University School of Law. Following a failed lieutenant governor bid, he was appointed Secretary of State of New York in 1975. Three years later, when current Lt. Gov. Mary Anne Krupsak declined to run again, Cuomo won her spot on the ticket. He went on to election victory in the fall.
He's survived by his wife, Matilda, and his five children, including current New York Gov. Andrew Cuomo and CNN correspondent Chris Cuomo.