On Wednesday, President Barack Obama announced a stunning policy shift on Cuba. We discuss the policy changes and local reaction to the news with María de Los Angeles Torres, executive director of Inter-University Program for Latino Research and professor of Latin American and Latino studies at the University of Illinois in Chicago, and WGN Radio 720 AM host Marianne Murciano. 
Obama has taken steps toward improving U.S.-Cuba relations since he took office in 2009. Read highlights from the president's speech on Wednesday, Dec. 17, about his latest action.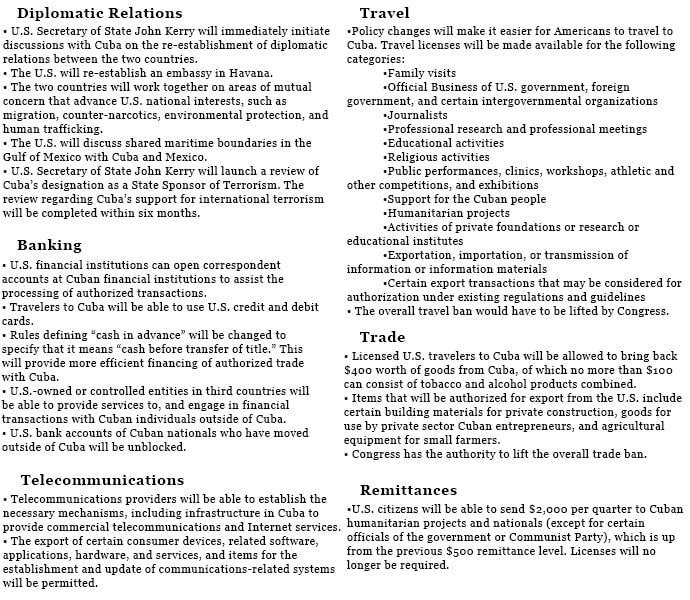 Watch Obama's speech on U.S.-Cuba relations and the next steps he'll take to chart a new course.
Businesses are buzzing after Obama's announcement of working toward re-establishing diplomatic relations with Cuba and relaxing decades old policies on trade and travel restrictions. 
Travel-Oriented Businesses
The American Society of Travel Agents estimated at least two million additional Americans would visit Cuba by 2017 if all travel restrictions were lifted in 2015, according to the Chicago Tribune.
While all travel restrictions haven't been lifted—that would require congressional action—expanded travel could initially benefit travel-oriented businesses, such as airlines, resorts, and cruise companies.
According to CNN Money, South Florida-based cruise company Carnival Corporation saw shares increase 3 percent, and Norwegian Cruise Line saw shares increase 1.5 percent on Wednesday.
Some U.S. airlines have prepared for the possibility of expanded travel to Cuba by providing flights to the country for the few Cuba-charter companies authorized by the U.S. government. American Airlines Group, Inc. flies to Cuba 20 times a week, which is up from 15 last year, according to the Wall Street Journal.
Automobiles
Cubans, who can afford to own a car, have a limited selection of cars—many of which are from the 1950s—to choose from since the government routinely chooses an official automotive supplier, according to Forbes.
While this could be an opportunity for Detroit automakers to capitalize on, they weren't saying much yesterday, according to ABC News.
Agriculture and American Goods
American farmers also embraced the news that they will be able to export crops to Cuba. The easing of trade between the two countries opens up a large market to U.S. rice farmers. According to the Wall Street Journal, the rice consumption per-capita in Cuba is approximately 110 pounds each year, which is almost five times the U.S. level.
Companies that make consumer products, such as soap and packaged goods, are likely to benefit first, according to CNN Money, because they're inexpensive and Cubans have limited disposal income.
Telecommunications
In his speech, Obama said telecommunications companies will be able to create infrastructure in Cuba that will open up communication between the two companies. Approximately 5 percent of Cubans currently have access to the open Internet, according to the White House.
View a timeline of U.S-Cuba relations from 1959 to January 2014.
Click the dots on the image below to learn more about Cuba.