Photographer and long-time neon sign enthusiast Nick Freeman joins us to talk about his new book, Good Old Neon: Signs You're In Chicago. Freeman has documented hundreds of neon signs around Chicagoland, some of which no longer exist.
View a slideshow of Freeman's photographs.
Read an interview with Nick Freeman.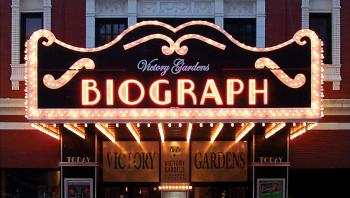 Tell me about your background.
I've always enjoyed photography and art. About 15 years ago, when digital photography became commonplace, I started to capture these signs on the fly. No particular agenda. I just enjoyed having a camera along with me, and when I saw [a neon sign], I'd take a quick shot or two.
Why did you get interested in neon signage?
I've always had a fondness for it. Even as a suburban, baby boomer kid I remember always feeling surrounded by neon signs. I had always taken notice of it. But it wasn't until the advent of digital photography that I started capturing it.
Were you motivated by trying to document these signs before they were dismantled?
Absolutely. I enjoy the thrill of the hunt, coming across these things. I've often found that within months of photographing a sign that it's been torn down, and my photograph is the only documentation that it existed.
They're a subliminal part of the urban environment. I've heard a lot of people express that they don't notice it until they're gone. Then they say, 'Hey, where's that restaurant sign? I miss it!'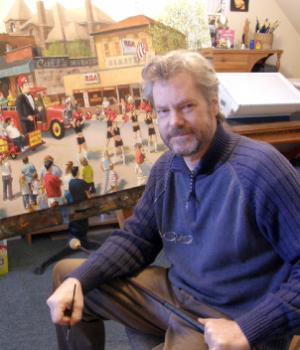 Why are businesses moving away from them?
It's primarily the expense. But the savviest business owners understand there's a lot of value there, and have taken the time and trouble to invest in maintaining them.
How did you find these places?
At first, it started on the fly as I drove around the city. I was already aware of some of the more familiar signs. I also set off on a couple of forays, usually on the weekends, specifically to visit neighborhoods on the far south side and in far distant suburbs, places I'd never been. My wife thought I was crazy. I kept a camera with me on car trips in case I went through unfamiliar parts of the city. My kids and wife would groan as I pulled over the car to take a picture.
How much research did you do for the written portions of the book?
I did a fair amount of research specifically for this book. I looked up certain places, visited those places, talked to the folks in charge. Many businesses take pride in the signs. They're expensive to maintain, but business owners understand how important they are to their identity.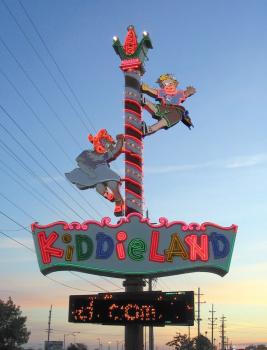 How long did this project take you?
I started about 15 years ago. I took a few pictures here and there before that. I started to incorporate this into business travels. If I'd go to another city, I'd try and block out an extra day at the end of a trip to see what I can find. There wasn't any kind of online guide for neon signs – it's one of the few aspects of the urban environment that hadn't been well-documented. I sought them out on my own.
What sort of a reaction has this book gotten?
It's been received well from all the folks who have seen it. They really have a visceral connection to the signs they remember vividly from growing up around here. Like Kiddieland, for example, which many people went to or drove by. The signs seem to lodge themselves in people's brains. One interesting demographic who likes the book that was unexpected was children. Small kids who have seen the book have really responded to it. I think it's partly the colorful pictures and simple words, but neon signs are also a glimpse into that mysterious adult world, an urban world they're curious about but haven't seen.
What has the reaction been like from business owners who have these signs?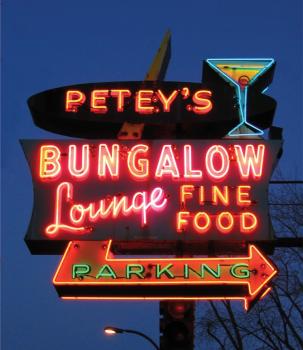 It took a number of them some time to understand what exactly I was doing and why I was interested. But most of them came around and expressed pride in the fact that they've maintained these things and that they've become symbols. I went to Petey's Bungalow on 95th Street in Oak Lawn a month or two ago just to make sure the sign was still there. I went in and inquired to speak with the manager, and somebody actually summoned Petey, who came out of the kitchen and talked with me. He's a very elderly man, small stature, but very well-groomed and proud of his business. He opened it more than 50 years ago; the business is still going strong, and so is he.
What do you love about neon signs?
I wish I knew. I think the attraction to neon is no more or less profound than a child's delight in the bright lights on a Christmas tree. There's a visceral reaction one has to the glowing sign. The fundamental purpose of a neon sign is to attract your attention, and in my case, that's especially true.
Interview has been condensed and edited.