The Chicago Bears lost their third straight game, with their offensive freefall on display again for a nationally televised audience.
Amid soggy and foggy conditions at Soldier Field, quarterback Jay Cutler had his worst performance statistically of the season, throwing three interceptions and getting sacked seven times. The Bears' lackluster effort left tight end Martellus Bennett questioning their passion. 
And with the Bears continually under-performing, many fans are calling for the McCaskeys to clean house at Halas Hall.
Just two games remain in this disappointing season, as the Lions come to town for a noon kickoff on Sunday. James "Big Cat" Williams gives us his take on Jay Cutler's poor performance, and the defense's inability to stop Drew Brees.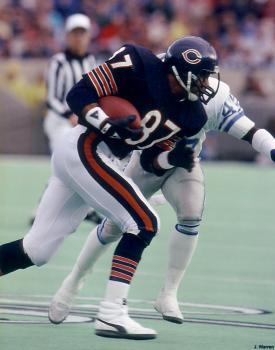 Emery Moorehead, former Chicago Bears tight end (1981-1988), offers his take on the Bears' ninth loss of the season.
As a former Bear, how difficult is it to watch the franchise suffer through such a disappointing season? 
It's been really difficult. I don't think I've seen a team play this badly on offense and defense. It's just terrible every week. Alshon Jeffery was not effective until the fourth quarter when they were giving him yards; it's just the same old thing every week. Offense and defense are not responding at all.
What was your initial reaction watching the Bears' opening drive against the Saints?
Just typical Bears: three plays and an interception. Nothing great was happening, not scoring until the fourth quarter, which is not what everyone expected from this offense. And there's no spark from this defense; this is about as bad as it gets defensively.
What did you make of Jay Cutler's performance, which was his worst statistically of the season?
Well, that's pretty bad. Three interceptions and seven sacks -- for the amount of money we have invested in this offense, you just expect more.
What should happen after the season to clean up this mess?
I love coaches, and I hate to see coaches lose their jobs. That means about 10 coaches and 10 families have to pick up and move. But I think if General Manager Phil Emery wants to save his job, he's got to admit a mistake and move on. You try to give a guy two hires, so Emery gets a pass on this one [hiring Marc Trestman.] But this coach has lost his team; they're not playing for him.