Last year's winter was known as "Chiberia." Will this year's winter be a repeat? We talk with WGN Chief Meteorologist Tom Skilling about what to expect in the winter weather forecast.

The National Weather Service's Climate Prediction Center released its U.S. Winter Outlook, which covers December 2014-February 2015. Illinois has an equal chance of having above average and below average temperatures this season. The NWS is also predicting a below-average amount of precipitation in the Midwest. While an El Niño has yet to develop, there is a 65 percent chance that El Niño conditions will develop by the end of year. 
The graph below shows the average winter temperatures for Chicago. Last winter, December 2013-February 2014, was the third coldest on record. 
This November was the fifth coldest on record for Chicago with an average temperature of 33.6 degrees; it was the fourth coldest on record for the state, which had an average temperature of 34.3 degrees, according to the National Oceanic and Atmospheric Administration's National Climatic Data Center.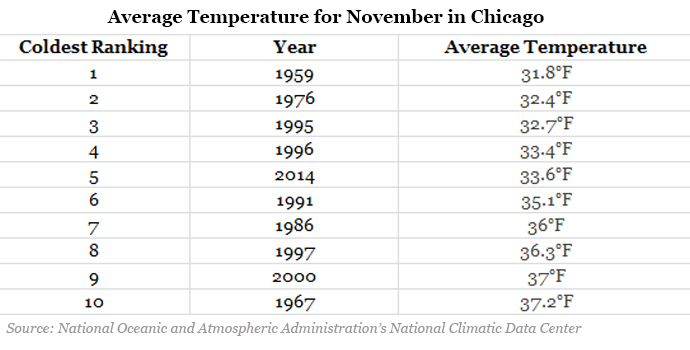 The map below shows how Illinois compares to the rest of the country in terms of ranking November temperatures.