Before CGI visual effects dominated Hollywood movies, filmmakers often used a painting of a landscape or location to create a non-existent environment. Usually painted on glass, the images were made by matte artists who worked with other film technicians to create the illusion. Think of the Emerald City in The Wizard of Oz. For a more recent example, picture the last shot in Raiders of the Lost Ark, the secret government warehouse where the Ark of the Covenant gets stored.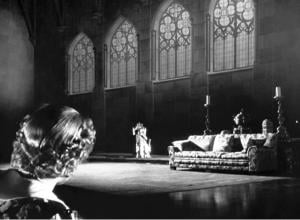 Chesley Bonestell made his bones as a painter of imaginative outer space scenes. But for years he made his mark on some memorable Hollywood movies. Working mainly for Warner Bros. and RKO Radio Pictures, he worked on Orson Welles' Citizen Kane and The Magnificent Ambersons. He worked with another great director, John Ford, on How Green Was My Valley, helping to transform a studio backlot into a Welsh countryside. He also recreated Paris' Notre Dame Cathedral for The Hunchback of Notre Dame.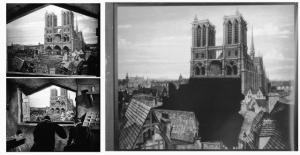 Other times, his work was more subtle but still dramatic – like the interiors of Frank Capra's Mr. Smith Goes to Washington.
Chesley Bonestell also painted the title image for the movie made from Ayn Rand's The Fountainhead, and he did uncredited work on the backdrops of the fanciful The Adventures of Mark Twain.
While Bonestell added greatly to the look of these films, he wasn't always properly credited. Other times, he was part of a team who took joint responsibility for the finished product. His work on The Adventures of Robin Hood was made alongside legendary Hollywood matte artist Paul Detlefsen. And his work on Citizen Kane was part of a team effort that included another fine matte artist, Mario Larrinaga.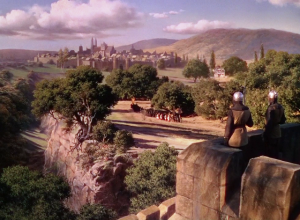 Whether he created paintings for space sagas or earthbound dramas, Chesley Bonestell was part of a memorable era of Hollywood filmmaking. Along with his peers, Bonestell proved that when live action is seamlessly combined with a meticulously detailed static painting, the effects can be special indeed.
For a comprehensive look at matte artists in the movies, click here.