American illustrator Chesley Bonestell was a visionary of universal proportions -- literally. In the first half of the 20th century he became the leading artist among creators of science fiction artwork and design. What is perhaps his most famous work, Saturn from Titan, appeared in the May 29, 1944 issue of LIFE magazine and sparked the imaginations of millions. The Adler Planetarium is currently presenting an exhibition of Bonestell's artwork. We take a look at the art and science behind his out-of-this-world paintings and how they influenced the modern fascination with what lies in the final frontier. Read an Artbeat blog about Bonestell's Hollywood movie art.
---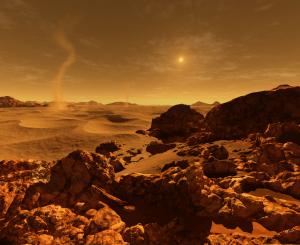 Read an interview with Ron Miller, space artist and author of The Art of Space.
Tell me a little bit about yourself and your work?
I'm a space artist myself. I write and illustrate. But I'm an illustrator first. I get to illustrate the stuff I write, which is a great situation to be in. About 10 years ago, I wrote a book on Chesley Bonestell--a biography and collection of his artwork.
How far back does the field of space art span, and how has it changed over the years?
Probably the first real attempts at depicting other planets and moons go back to the middle of the 19th century. These depictions weren't outright fantasy. They were based on what science knew at the time. Some illustrations even accompanied some Jules Verne novels.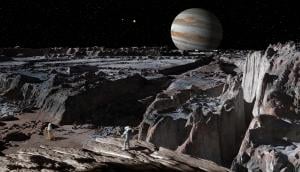 Are there many differences as you move across different media, such as photos versus CGI?
Space art is art that is inspired by space or space travel. There are a few schools.
The school that Bonestell belonged to was like the Hudson River School—painters went out and brought back great panoramas of places like Yellowstone, showing people "alien" images. The idea is to be as representational as possible. That's what I do. They're called "rock and ball" artists because usually their paintings have a rocky foreground.
There are a lot of other interpretations--galaxy quilts, mobiles, and wood sculptures. All of them are inspired by the idea of astronomy and space exploration. You can express that in a lot of different ways and in every medium.
Ten or 15 years ago, I worked traditionally. Twelve years ago, I switched over to working digitally, just to meet deadlines. But there are still people working in traditional media: paintings, water colors, tempura, oils, and acrylics. And there is mixed media--start with traditional media, then scan it and finish it digitally.
How have world events or cultural movements shaped the field of space art?
For people like Bonestell, who specialized in planetary landscapes, it made no difference. Mars looks like Mars.
But for people who specialize in hardware, which he also did, these can be very much affected by what's going on around you, especially for a lot of his early '50s space crafts, during the height of the space race. To that extent, events can affect space art, but not very much. Most space artists try to work around the politics of the time.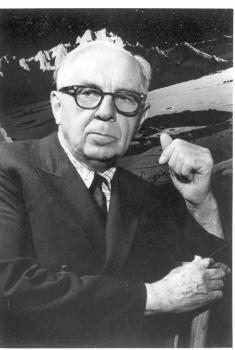 In your opinion, where does Bonestell fit into the world of space artists? Did he have many contemporaries?
At the time, not many. Some people call him the father of space art, which in many ways, he was. The grandfather of space art was a French artist, Lucien Rudaux, who inspired Bonestell. But you could tell his works were paintings. They were super accurate, more so than Bonestell's. But they looked like an artist's interpretation.
In 1944, Bonestell's pictures were like a blockbuster. Nobody had seen anything like that. He came out from Hollywood and brought those techniques with him. For the first time, people realized the moons of Saturn are a real place. It's not just something from your imagination.
No one had really gotten that across before. His artwork was reproduced all over the planet--copied like crazy. People just assumed the way he depicted things were the way they were going to look. He was hugely influential.
Interview has been condensed and edited.
View a slideshow of artwork from Miller's book, The Art of Space.
View a timeline of Bonestell's career.