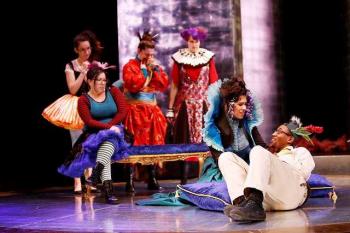 For nine years, Chicago Shakespeare Theater has run a transformative program that engages Chicago Public School students and teachers. Chicago Shakespeare shares their professional facilities with these amateurs, stages a show that is anything but amateurish, and ignites a passion for plays by the greatest writer in the English language.
Chicago Tonight visited last week to see how this program – called CPS Shakespeare! – benefits all involved. We also visited because the program was named a finalist for an award by the President's Committee on the Arts and Humanities.
Well, there were 30 finalists and 12 winners were announced at the White House this week. And one of the winners is CPS Shakespeare!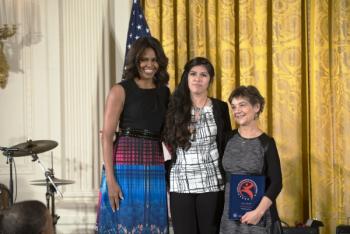 Jenny Gonzalez, a junior at Prosser Career Academy, read a speech at the White House and met First Lady Michelle Obama.
Jenny told us: "I didn't know much about Shakespeare. Every time I'd hear a teacher say 'Oh we're reading this play' I'd groan 'Oh I don't want to, it's boring, it's ancient, I don't get it.' I feel like now, it's amazing… like, I see William Shakespeare as a new person."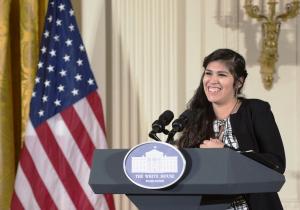 The founder of CPS Shakespeare! – Marilyn Halperin – told us: "We know that this program, one teacher at a time, one student at a time, changes lives. It really does." Halperin is the Director of Education for Chicago Shakespeare.
The prize is called the National Arts and Humanities Youth Program Award. It's another feather in the cap of Chicago Shakespeare Theater and a memory that Shakespeare's newest fans in Chicago will never forget.
Meet Jenny Gonzalez and Marilyn Halperin and get a behind-the-scenes look at CPS Shakespeare! in action tomorrow night – Thursday, November 13th – on Chicago Tonight.