Chicago native Bob Mariano, CEO of Mariano's, is here to update us on the grocery store's Chicagoland expansion, his approach to business, and his views on the economic outlook for Illinois.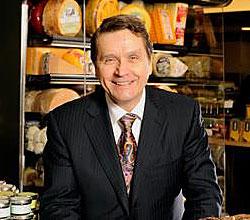 Bob Mariano's Guide to Management
At a time when many other grocery store chains have been in retreat, Mariano's has been rapidly expanding its presence in the Chicago area.
The company now operates 29 stores and has ambitions to open another 4-5 a year until they reach the goal of 50 stores across the Chicago area.
The eponymous chain's founder, Bob Mariano, started in the grocery business working part-time on the deli counter at Dominick's in 1968 while still a high school student.
He soon learned he had a gift for selling and under the wise tutelage of Dominick DiMatteo Jr. – who Mariano calls "Mr. D" – he learned the absolute importance of listening to his customers.
"When I was working at Dominick's and Oscar Mayer, I always loved people and connected with people," Mariano says. "I figured out that if you tell people the truth and try to do the right things that are of benefit to your customers, then things usually work out right."
He seems to have little time for management-speak.
"It's very easy to get into a management checklist type of mentality, but what I learned from Mr. D is that he was extremely competitive and absolutely devoted to the customer and figuring out what the customer wanted and what was in the way of the customer getting what they wanted."
Mariano took that lesson to heart.
"I'm always trying to get at whatever it is that is in the way of my peoples' ability to do a great job. Critics are a dime a dozen. We place a lot of emphasis on training. We try to teach our employees not criticize them."
He also emphasizes the importance of listening, whether you are a new employee just starting out on the deli counter or a senior manager.
To that end, all managers – including Mr. Mariano himself -- regularly spend time working on the shop floor to better grasp their customers' and employees' needs.
"You shouldn't believe that just because you're a vice-president, you know better than someone else – vice-president is just a title," Mariano says. "You have to listen to your customers. You can never believe you have all the right answers."
---
View a map of current and future Mariano's stores in the Chicago area below.
-- Map created by Yasmin Rammohan
Watch Mariano's Jan. 6 appearance on Chicago Tonight.