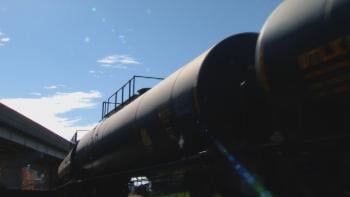 The improving economy bolstered by the upsurge in U.S. oil production has created some unanticipated problems in the Chicagoland area. An increasing number of freight trains are carrying the volatile crude oil in what even the railroad industry admits are unsafe railroad tank cars. And local officials say proposed new federal regulations don't do enough to curb the danger to their communities.
The CN freight train thunders through the railroad crossing in suburban Barrington. Eighteen trains a day roll through the village and an increasing number contain tank cars filled with hazardous materials.
"As oil and ethanol traffic has increased and commerce has increased in the country, we're seeing more and more of those hazardous materials coming through on more and more trains every day," said Village President Karen Darch.
U.S. oil production has shot up in the last five years. New oil from North Dakota has outstripped pipeline capacity and producers have turned to railroad tank cars to move the highly volatile product. The American Association of Railroads says the number of tank cars carrying crude oil has increased more than 2,000 percent in the last five years, and that increase worries Darch.
"My biggest fear is that that there is a derailment, or some sort of incident with a train carrying hazardous material, that the cars carrying that material breach, come open and the material spills out," said Darch. "With the highly volatile, flammable materials, that can instantly be a fire."
Tank cars carrying crude oil were a part of the runaway train that derailed and exploded in Lac-Mégantic, Ontario in 2013. Forty-seven lives were lost. Some victims were incinerated in their beds. Thirty buildings were destroyed in the center of town and 115 businesses lost.
The tank cars that exploded were DOT-111s, used to move flammable liquids. Even the industry agrees that most of the DOT-111s now on the rails need to be strengthened to be safe.
"The industry has come forward, clear that we think an upgrade to the cars has to be made. And that the DOT-111s have to be removed in a, quick, fast, systematic manner because you can't affect the economy of the whole country because of it," said CN Executive Vice President Jim Vena. "But we've all agreed that yes, it's time to upgrade and we'd like to see that happen sooner than later."
Vena's CN Railroad has just opened a $25 million employee training center outside Chicago where safety training will be a priority. The acting chairman of the National Transportation Safety Board, Christopher Hart, agrees that the industry has a higher safety standard for Dot-111 tank cars than the government now requires.
"What we're looking at is the problem of a business model change that was quick because of two things: the discovery of oil in North Dakota and also the ethanol requirements," said Hart. "So because of those, now trains that used to have five or seven cars of oil or ethanol now would be full mile-long unit trains of those materials and that's a very different dynamic. And when the business model changes that fast, the regulatory machinery can't keep up with that change."
Federal regulators are trying to catch up. New rules for tank cars are due out next year. President Darch meets regularly to discuss Barrington's rail safety concerns. She says though the new rules do call for reinforcing tank cars, she still sees major loopholes.
"The rule right now would say if you're carrying 20 carloads or more of hazmat on a train, you have to have the better standard cars but there are plenty of trains that would have fewer than 20 carloads," said Darch.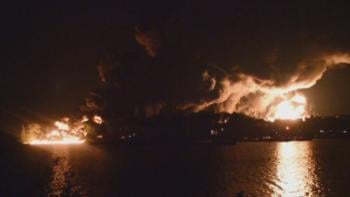 There were only six cars carrying hazardous materials on the CN train that derailed in October in Saskatchewan, Canada. But those cars broke open causing a major fire.
"We thought it proved our point that in a very real sense of what that could do and really underscores the need to make every train carload of hazmat traveling in a safe car," said Darch.
Critics say the proposed new federal rules are also inadequate when it comes to notifying communities about what's on a train if a derailment occurs.
"I think there are enormous opportunities to take advantage of the existing information technology infrastructure to get that information much more quickly so that actually the first responder riding in the fire truck to the scene can pull it up electronically, and know by the time they arrive on the scene exactly what's in the train and where," said Hart.
Barrington Police Sgt. Keith Wrzala couldn't agree more. He was pleased when CN Railroad equipped Barrington's three squad cars with a monitor showing when a railroad crossing gate becomes active. But that's all it shows.
"It's useless for what we would need it for, kind of the expectations we would have, to be able to use it," said Wrzala.
The railroads have technology that shows what is on every train and where it is located.
"The conductor has a list of every car and what the contents are on the train. And they always follow with the train. In every rail yard, we keep track of it. Electronically, on top of that, we keep track of every rail car and where it is and what's on every train," said Vena.
But Barrington Fire Chief Jim Arie says as of now the railroads won't share that information electronically with first responders.
"No. They go back to the paper that's in the locomotive, and that being our best and quickest access for information. That's been that way for 30 years; that has not changed," said Arie. "I would like to think technology could make that better and enhance our ability at the same time."
Vena acknowledges that the railroads are not willing to share that information on a real time basis.
"We don't want to give it for security reasons what's exactly on the train at any minute at any location," said Vena.
First responders like Sgt. Wrzala has a hard time understanding why vital information would be kept from them based on security reasons.
"That's fine for the general public but when you're dealing with first responders there is no security breach with us," he said. "That's information we need to protect the village, and if we don't have that, again we are very limited in what we can do."
With crude oil production on the rise in both the U.S. and Canada, rail safety concerns are continuing to grow in Barrington and across the country.
The irony is the railroad knows what is needed to make the Dot-111's safer. The industry's own standards call for a thicker more puncture-resistant shell so they'll be less likely to break open in a crash, protective head shields at both ends of the tank car, and additional protection for top fittings; 18,000 of the 92,000 Dot-111s have been reinforced. But it takes time to make new tank cars, and more importantly the industry is reluctant to push ahead until it knows what the new federal rules will require.
And now the local officials don't think the new rules will do enough to make their communities safer from what many fear is a disaster waiting to happen.