How Technology is Changing Work and the Workplace
Technological advances are changing not just our work, but our workplace as well. While creating whole new industries and products on the one hand, it also ushers in the decline of other, traditional industries. Advances in robotics and artificial intelligence cause excitement but also alarm. A panel of experts gives us a glimpse of what the workplace of the future may look like.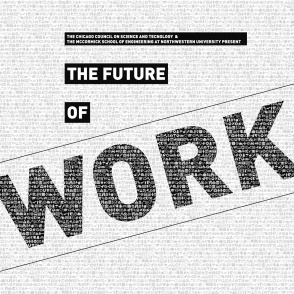 Our panel will also be speaking at the Chicago Council on Science & Technology's "The Future of Work" seminar. The event will address how innovation automates, collects and organizes our information, and will introduce new lines for global communication. The four speakers will also discuss how new technologies will affect the workforce. Attendees can look forward to a Q&A forum from the panel and a networking reception following the event. The two-hour session will take place Wednesday, October 29 from 4:00 pm to 7:30 pm at Northwestern University's Hughes Auditorium. Admission is free.