The Bears fell to the Patriots on Sunday, in their most lopsided loss of the 2014 season. "Big Cat" Williams joins Ann Kreiter to recap the Bears' performance at Gillette Stadium.

Cutler Throws Multiple Touchdown Passes
Quarterback Jay Cutler was 20-of-30 passing for 227 yards, three touchdowns, and one interception in the 51-23 loss to the New England Patriots. Cutler's three touchdowns bring him to 17 passing touchdowns in the first eight games of the season. The 17 touchdowns of the 2014 season puts Cutler in the top four for most passing touchdowns through eight games in Bears' franchise history. For the season, he's 197-of-293 passing for 2,093 yards, 17 touchdowns, and eight interceptions.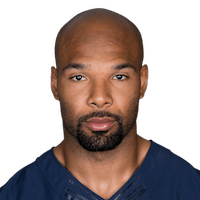 Most Receptions by a Running Back Through Eight Games
Bears' running back Matt Forte had six receptions in Sunday's loss, bringing him to 58 receptions in 2014 which is the most recorded by a running back through eight games in NFL history. The previous record was set by Marshall Faulk with 54 receptions in 2002. Forte's receptions are the third most in a single season in Chicago franchise history. Last season, Forte set the Bears' record of 74 receptions.
Forte in Top Five for Most Touchdowns in Bears' History
During Sunday's game, Forte hauled in a 25-yard touchdown reception, and he now has six total touchdowns on the season (three rushing and three receiving), bringing his career touchdown total to 53. Sunday's touchdown put Forte ahead of former Bears' player Ken Kavanaugh for the fifth most touchdowns in Bears' franchise history; Walter Payton holds the record with 125 touchdowns.
Most Receiving Touchdowns Among TEs in Bears' History
Bears' tight end Martellus Bennett scored his fifth touchdown of the season, tying a career-high. Bennett's five touchdown receptions are tied for sixth most in single-season franchise history among tight ends in Chicago. He tied his record set last season of five touchdowns.