Former Bear James "Big Cat" Williams breaks down the Bears' fourth straight loss, this one coming at home to playoff-bound Detroit.
And while the result was the same – another loss – the journey to get there felt different. With backup quarterback Jimmy Clausen leading the way, the Bears stayed competitive with the Lions.
Multiple television cutaways showed benched quarterback Jay Cutler watching from the sidelines. It's anybody's guess what the result would have been with Cutler behind center. 
But for one afternoon at Soldier Field, fans saw a defense disrupting Lions quarterback Matthew Stafford, and an offense playing with spark. Still, there were miscues. Wide receivers didn't do Clausen any favors, dropping seven passes. And the defense did have some cringe-inducing missed tackles.
Sunday's game did nothing to change the fact that the McCaskey family has big decisions to make to turnaround their ailing franchise.
This disappointing Bears season comes to a close next Sunday in Minneapolis. The 6-9 Vikings host the Bears at noon at TCF Bank Stadium.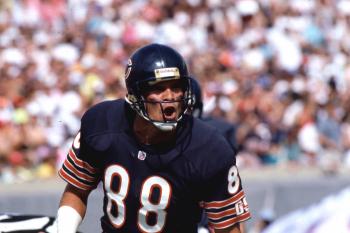 Former Bear Glen Kozlowski  (wide receiver; 1987-1992) offers his take on the Bears' 20-14 loss to the Lions, and on the state of the franchise.
What did you think of Jimmy Clausen's performance?
I don't understand how you start a guy who's 1-9 in his career. He did as well as can be expected for a kid that hasn't played in four years.
If you were the coach, would you have benched Jay Cutler?
If you're going to bench Cutler, you should have done it three weeks ago or a month ago, when you have a chance to generate that spark Trestman was looking for. You score 14 points that come off Lions' special teams gaffes. Offensively, you're still broken. I really personally think Cutler gave you a better chance to win the game. I think Cutler was the better option to win the game.
How do you rate the Bears' defensive play yesterday?
The defense played its tail off. They were an 8 out of 10. They were flying around. I thought overall the defense played inspired. I don't think it had to do with Cutler not being at quarterback. These guys are pros and want to play well. When you create two turnovers in the first half, and you create red zone opportunities, it's a game you should win and the Bears still couldn't do it.
As a former Bear, what's it like watching the Halas Hall soap opera?
You couldn't script something like this. This was the ultimate dysfunction. There was no leadership. We all love the Bears, especially the guys that played for the organization. George McCaskey has to take control and trust his own instincts, and make some changes at the top and fix what's wrong.
What needs to happen in the off-season to turn around the franchise after this disappointing season?
I think you got to look at the general manager first and foremost. He's the guy that hires the coach and makes a commitment to some of the big-name players. I still think Cutler could be an elite quarterback. He's better than about 15 quarterbacks in the league. You got to figure out a way to make him better. You got to make a change there and work on down. You got to change what you're doing at the top. You look at all the organizations that are successful – they have a quality GM, a quality coach, and a franchise quarterback. And right now, the Bears don't have any of the three.