Turnovers again plague the Chicago Bears, as they're upset by the Miami Dolphins at Soldier Field. James "Big Cat" Williams recaps the Bears' third loss in the last four games.
---
A 27-14 upset halted the Bears momentum following last week's win over the Atlanta Falcons. Miami's victory shifts Chicago's record to 3 wins and 4 losses for the season. View a breakdown of the game below.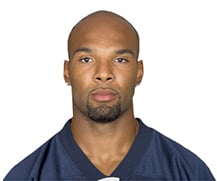 Forte Scores
Bears running back Matt Forte led Chicago's offense in Week 7 scoring the team's two touchdowns. He had 12 rushes for 49 yards. In the third quarter, he scored the team's first touchdown. Forte also had six receptions for 60 yards and scored the final touchdown in the fourth quarter. Forte now has a total of 52 total touchdowns tying with Ken Kavanaugh for fifth most in franchise history.
An "Unacceptable" Loss
In the post-game conference, Bears head coach Marc Trestman acknowledged the hard work of the team and addressed flaws in the team's offense.
"As I told the team, today was an unacceptable performance by our football team," Trestman said. "But it starts with me because we couldn't get it done. We didn't execute, particularly offensively, but collectively – because it is a continuity game – we didn't get the job done and that starts with me and coaching these guys to be ready."
Bears wide receiver Brandon Marshall echoed Trestman's comments.
"I mean, we've got a great, great group of guys, and this is unacceptable," Marshall said in the post-game conference. "What did we put up? 14 points? That's unacceptable."
Record High Sacks
Despite the loss, Bears Jeremiah Ratliff recorded 3.5 sacks in Chicago's game against Miami. This is a career high for the defensive tackle, who also finished the game with seven tackles. Ratliff's accomplishment is the second highest for a defensive tackle on the team. Former player Jim Oborne leads the list with a record four sacks in the Sept. 4, 1983 game versus Atlanta.