Veteran Chicago actor Mike Nussbaum joins us on Chicago Tonight to talk about his long career that keeps going strong.
---
This fall, longtime Chicago actor Mike Nussbaum is taking a turn at playing a man slipping into senility. Until Oct. 26, he's performing in a production of "Smokefall" at the Goodman Theatre.
"I am an old man, and I'm still bouncing around a stage and memorizing lines," he said about his current situation.
Watch Chicago Sun-Times Theater and Dance Critic Hedy Weiss's review of "Smokefall."
But rather than focus on his age, Nussbaum would like critics and audiences to focus on his artistry. He credits his youthful approach to working with young people as a colleague rather than a mentor.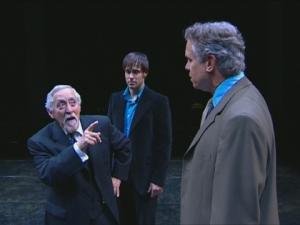 He turns 91 in December, but his acting career doesn't stretch as far back. Before taking to the stage professionally, he worked as an exterminator.
"I fell off a roof … maybe 16, 17 years into my business," he said. "I was killing wasps, and I fell of a roof and came close to really damaging myself... If things had been slightly different, I might have been killed or injured beyond recovery. And my wife and I agreed that was time to consider doing acting full time."
It wasn't much later that Nussbaum met Bob Sickinger, a man credited for creating the kind of theater Chicago is now known for.
"A guy named Bob Sickinger came to town and started a theatre and hell-house that drew critics," he said. "For the first time, non-equity theatre was being reviewed seriously. And careers could begin that way."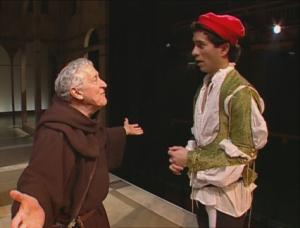 By the early 1970s, with Nussbaum's career on the rise, he crossed paths with a playwright named David Mamet. They went on to collaborate on "American Buffalo" and "Glengarry Glen Ross." Nussbaum also credits Mamet with imparting an important acting lesson on him.
"He's constantly sitting in the audience saying aloud, 'Just tell him to say the words, just tell him to say the words,'" he said. "You know, when we would try to figure out what the backstory is, that kind of thing. And the truth of the matter is that when in doubt, trust words. If it's a good playwright, trust the words and it will get you through. You do not have to put a false emotion onto something."
Nussbaum didn't just stick to the stage. He found himself in various movie and TV roles throughout the years, including appearances in "L.A. Law," "Frasier," "Field of Dreams," and "Fatal Attraction."
View a timeline of highlights from Nussbaum's career.
"I had the feeling in retrospect that I would've succumb to the seductions of that life in a way that I could not be proud of, and so I'm glad that I wound up having a good solid career here in Chicago," he said.
Nussbaum said his greatest achievement hasn't been onstage, but rather, what he cherishes most is a large and very diverse family. He has three children, seven grandchildren, and four great-grandchildren.
Still, he's not yet ready to settle into a fulltime life of great-grandfatherly domesticity.
"As long as I am able to and as long as people call me, I'm available," he said.