The Illinois Network of Charter Schools says the Institute on Metropolitan Opportunity's report on Chicago charter schools is inaccurate.
Chicago Tonight: Study Says Charter Schools Are Underperforming
Read an interview with Jodie Cantrell, senior manager of external affairs at the Illinois Network of Charter Schools.
Q: What do you think of the Institute of Metropolitan Opportunity's report on Chicago charter schools?
We have some concerns on the accuracy of the report. We found one of the first things is the high school graduation rates are not consistent with [the information] that is out there in CPS. And then No. 2, something Andrew [Broy, president of Illinois Network of Charter Schools] says [this report] is a policy document masquerading as research.
Q: Why does he take that position?
[He takes that position] based on the data in [the report] and where they're drawing their conclusions from. A lot of studies in the past five years—Stanford, Mathematic Institute—show charter schools are moving the needle for minority and low income students, high school graduation rates, college enrollment, and college persistence.
Last week, CPS released ACT data, which didn't get too much pick up, and results for the city are up significantly overall for all public schools in Chicago. Average ACT score for charter schools was 18.46, and the average for the district was 16.4. 
View a graph on composite ACT scores by school type.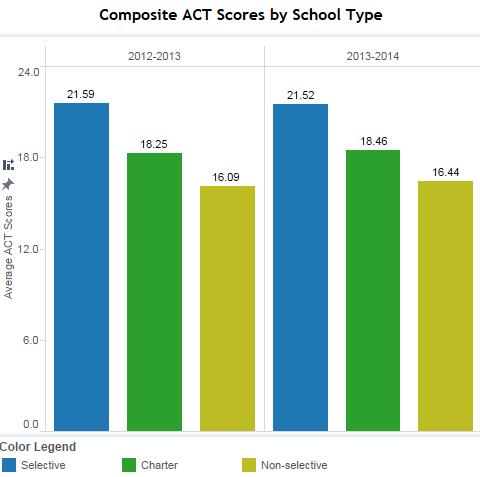 View a graph on average ACT scores by group and school type.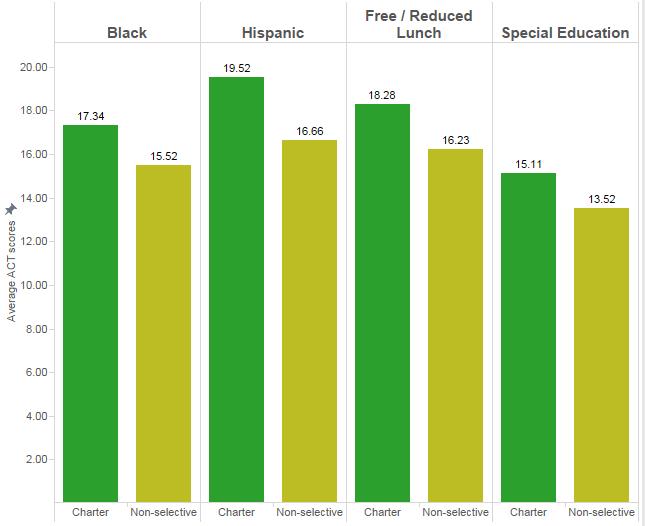 Q: The report states that enrollment in charters has increased each year, why do you think that is?
Charter school enrollment is reflective of the demand for schools. Parents in certain neighborhoods in the city are looking for quality school options. There's roughly 60,000 [students] in charter schools in Chicago… There's a huge parent demand, and we're seeing growth in numbers.
Q: What do you think of the study's focus on one academic year?
We believe with anything, looking at growth is a better indicator. It's hard to take one snapshot of one school year. It's not telling a story of how the school has impacted student learning. Other studies have looked at student growth over time, followed students and worked to control for selection biases; it was more nuanced research.
Q: How is charter school performance measured?
There's lots of way to measure performance. Some look at academic growth measures, looking at students from when they enter ninth grade and where they are at 11th grade. Most of the focus is on ACT performance… CPS is coming out with a new school policy rating that will look at ACT, college enrollment, and attendance. Lots of factors tell a school's performance story.
Q: If a charter school is found to be underperforming, what happens?
Charter schools have a contract with CPS—a five-year contract. If schools aren't performing for students as they're set out to do, schools will be closed and schools have been [closed]. In the past, CPS has released an academic watch list for charters to better inform them how they are doing in terms of the measures in place. 
Q: What do you think of the report's recommendation that CPS establish a three-year moratorium on new charter schools?
I think it doesn't speak to demand. Parents want high quality options, and they found it in charters. I don't think [the recommendation] aligns with demand in the city.
Interview has been condensed and edited.