Thomas Eric Duncan, the Texas Ebola patient who traveled from Liberia to the United States, died from the disease. He had been in critical condition since he was diagnosed with the virus in mid-September.  Ebola continues to spread internationally as a nurse in Spain tests positive for the virus. To help combat the spread of the disease, federal officials announced temperature screenings of passengers arriving from West Africa would begin at five U.S. airports, including O'Hare.  We discuss the latest Ebola cases and precautions being put in place to stop the spread of the disease.
As of Wednesday, Oct. 8, the Centers for Disease Control reported a total of 8,033 cases, and of those cases there have been 4,461 laboratory-confirmed cases. The CDC reported a total of 3,865 people have died from Ebola.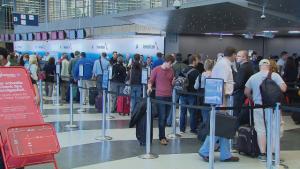 With the continuing international spread of Ebola, the CDC released a fact sheet detailing the exit and entry screenings that will be conducted at airports.
Exit Screening
Exit screenings are conducted at airports in outbreak-affected countries, and while they may look different from country to country, they will contain the same basic elements.
All travelers will have their temperatures taken, answer questions about their health and exposure history, and will be visually assessed for signs of potential illness.
Travelers with symptoms or possible exposure to Ebola are separated and assessed further.
This assessment determines whether they are allowed to travel or are not allowed to travel on a commercial flight and referred to public health authorities for further evaluation
Entry Screening
The CDC has 20 quarantine stations located at the ports of entry where most international travelers enter the U.S. Enhanced entry screening of travelers who have been in Guinea, Liberia, and, Sierra Leona will be conducted at five U.S. airports.
For each arriving traveler who has been to an outbreak-affected country:
Customs and Border Protection will give each traveler a packet of CDC health information that includes information about Ebola, symptoms and what to look for and what to do if symptoms develop, and information for doctors if travelers need to seek medical attention.
Customs and Border Protection will take the travelers' temperature, observe them for symptoms of Ebola, and ask about their exposures and symptoms.
If a traveler has a fever or other symptoms or has been exposed to Ebola, Customs and Border Protection will refer to CDC to further evaluate the traveler. The CDC will determine whether the traveler can continue to travel, is taken to a hospital for evaluation, testing, and treatment, or is referred to a local health department for further monitoring and support.
---
Ebola Virus Disease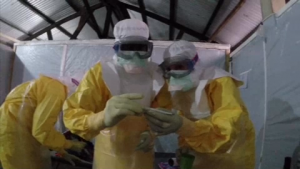 Ebola virus disease is a severe often fatal illness. Fruit bats are considered a possible natural host of the virus, and outbreaks usually occur in remote villages in Central and West Africa near tropical rainforests. The virus is transmitted through contact with the blood, tissues or body fluids of infected people or animals. In Africa, infection has been documented through the handling of infected chimpanzees, gorillas, fruit bats, monkeys, forest antelope and porcupines, according to the World Health Organization.
Symptoms: A sudden fever, muscle pain, weakness, headaches, and a sore throat are early symptoms. These are usually followed by vomiting, kidney and liver problems, diarrhea, rashes, and in some cases both internal and external bleeding. Lab findings include low white blood cell and platelet count and elevated liver enzymes. Incubation period is 2 to 21 days. Ebola virus infections can be diagnosed in a lab through several types of tests.
Treatment: Currently, there are no vaccines available for Ebola, although several are being tested and evaluated. Ebola outbreaks have a case fatality rate of up to 90 percent, and if an outbreak occurs, the infected person or animal should be quarantined to reduce the risk of spreading the disease. Ebola virus patients are usually very dehydrated and require intensive care.