In her new memoir "Life in Motion: An Unlikely Ballerina," Misty Copeland recounts her late-blooming career, a custody struggle with her mother, and her emergence on stage as a soloist with the American Ballet Theatre.
Copeland, 32, joins us to discuss the book. We'll also touch on her more recent chapters -- dating Prince, appearing as a judge on "So You Think You Can Dance," and appearing in an Under Armour commercial that paid her more than her work as a ballerina.
Copeland, along with members of the American Ballet Theatre, will perform at Roosevelt University's Auditorium Theatre Friday through Sunday. The performance will kick off the theatre's 125th anniversary season.

Back in 2001, just before graduating journalism school at Columbia University, I completed a half-hour radio documentary for my master's project--we didn't do theses, but long-form, journalistic stories. This week, as I prepared for my interview with Misty Copeland for Chicago Tonight, I dug through my oldest living emails (yes, I'm a pack rat-don't judge me), and found the outline I sent my advisor pitching my story idea: The Color of Ballet. It was especially of interest to me, since from the age of 6, I myself had studied and loved various forms of dance: ballet, tap, pointe, jazz, modern, hip-hop, African, and even acrobatics.
I obviously chose another course, professionally, but the idea at the time was to take a look at the challenges faced by black dancers competing in the world of ballet. The outline I found includes the names of the people I'd been in contact with up until the date of the email: Nov. 12, 2000. Among them were Maurice Hines, dancer and brother to the late Gregory Hines; Aesha Ash, then, one of several black ballet dancers in the New York City Ballet; as well as Christina Arrez, manager of the American Ballet Theatre's Studio Company. As I scroll through those old notes, I recognize a name we all know: Misty Copeland. Arrez gave me her name and that of another African-American dancer in the Studio Company. I interviewed the other dancer, Dante Reed, but didn't use his interview in my story, likely because of technical difficulties-again, don't judge me, I was a cub reporter. I did sit in on an ABT Studio Company rehearsal to gather sound for my story. Misty must have been in the room. I never had the chance to talk to her. So, you could say I waited 13 years for this interview. I hope this one makes up for the one I never did.
But here is the result of dragging my gigantic tape recorder around New York for a school year to gather interviews and sound at various dance schools and studios: The Color of Ballet, by Brandis Griffith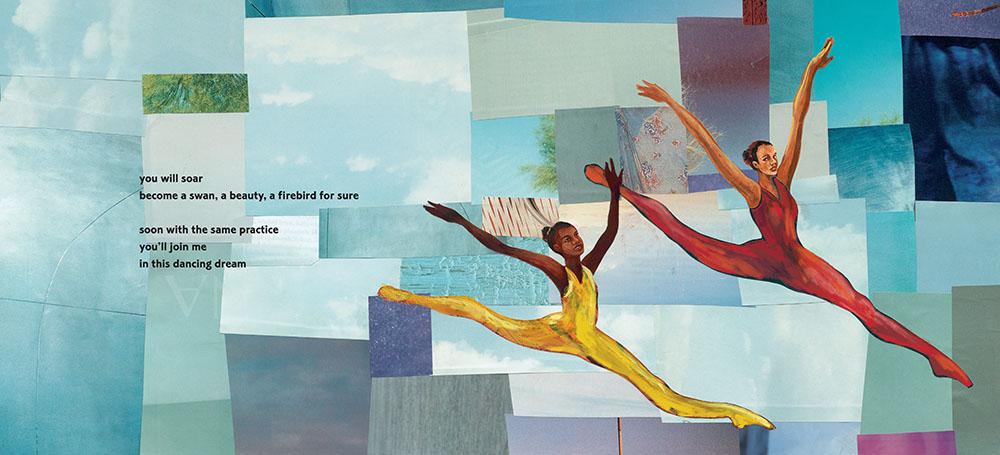 Art for "Firebird" by Christopher Myers / Courtesy of Penguin Young Readers Dancers of Color in Ballet
Dance Historian Joe Nash said it's easier today for black dancers to train in ballet, than it was when he began in the late 1940s. But still, in 2001, there were relatively few black dancers in mainstream companies.
According to Nash, there are many qualified black dancers, more so than ever before.
"There was a time you could not prepare yourself to enter this competitive world," Nash said. "Today we have dancers who are appearing—even though they are token—they are appearing in white ballet companies. It just so happens we wish there were more companies hiring a greater number of African Americans.
Limited Roles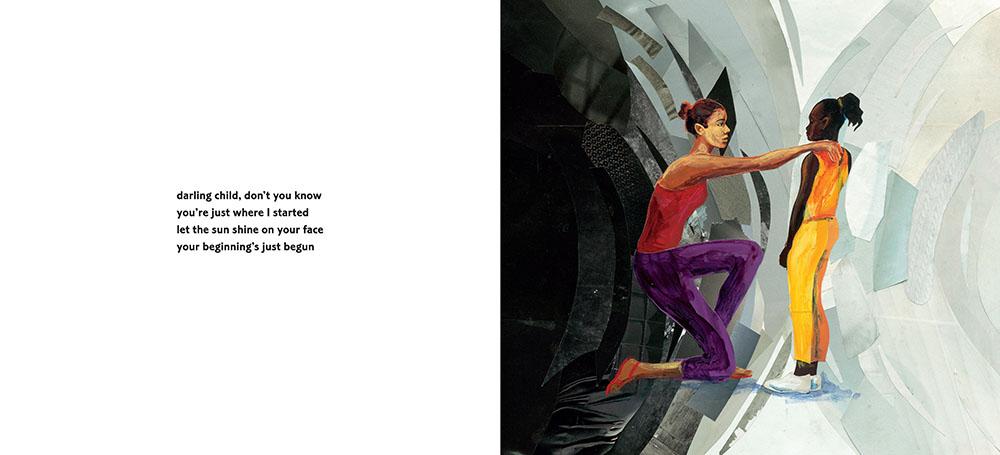 Art for "Firebird" by Christopher Myers / Courtesy of Penguin Young Readers "In 1983, only four black dancers were performing in New York's major ballet companies," I said. "At the time, there were more than 230 dancers among the American Ballet Theater, the New York City Ballet, and the Joffrey Ballet. None of the four blacks were principal dancers."
In 2001, there were only 14 black dancers in the major New York City ballet companies. The San Francisco Ballet had one black dancer, out of 72. The Joffrey Ballet in Chicago had three out of 33. And in New York, the American Ballet Theater had two out of 77.
Physique and Dance
"Our body structure, it's totally different," said Aesha Ash, then one of several black ballet dancers in the New York City Ballet. "We are just different. You know? I think it may be a little harder to fit that stereotypical ballet body. I'm not saying that it's impossible. It's not impossible. But it's harder."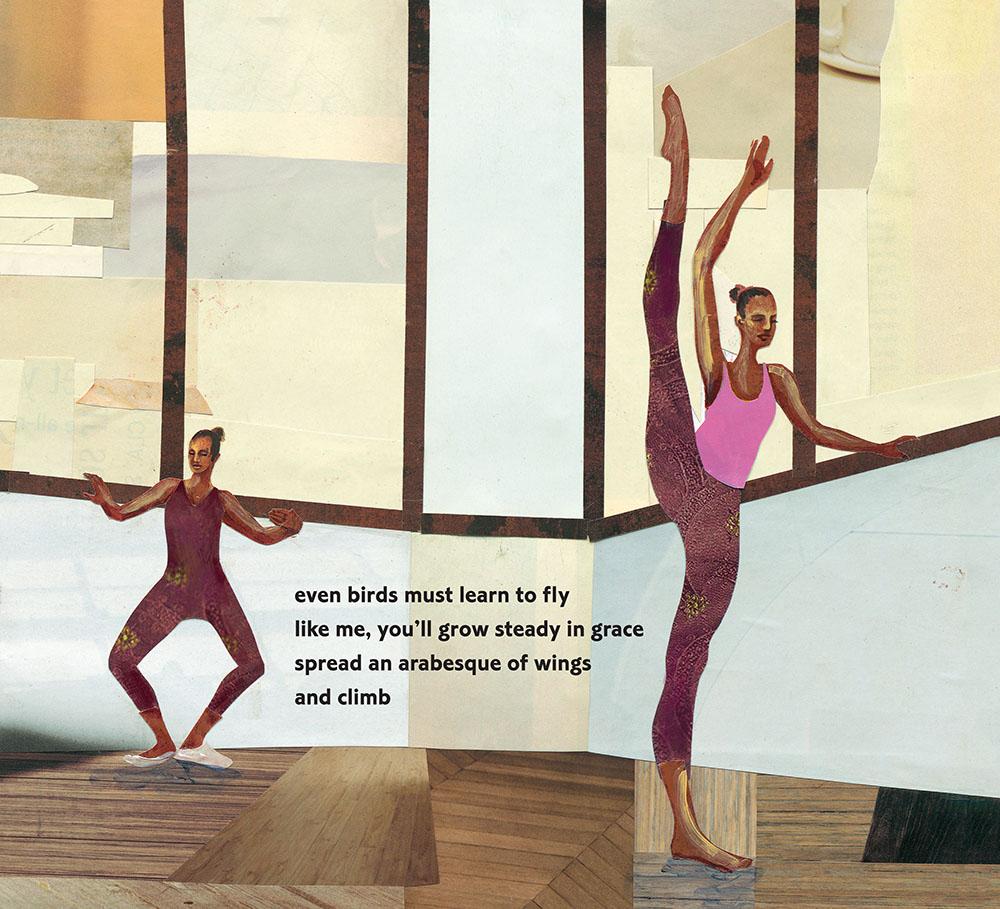 Art for "Firebird" by Christopher Myers / Courtesy of Penguin Young Readers John Meehan, then the artistic director at the American Ballet Theater Studio Company, said becoming a ballet dancer all comes down to physique. Men can't be too short, and women can't be too tall, unless they're a truly superb dancer.
"Long legs, long arms, long neck, and arched feet," he said. "And then we look for flexibility in the joints. We look for good training. But training can be fixed, but physique can't. So physique plays a big part."
For Meehan, the amount of black ballet dancers boiled down to the numbers, taking into account the large number of white girls who begin ballet at an early age.
---