Roughly one-fifth of all African elephants were slaughtered between 2010 and 2012 to fuel the voracious demand for ivory -- most of which is sold to China. That's 100,000 dead elephants. At the current rate of extermination, the African elephant could be extinct in the wild in a few short decades. Founder of Save the Elephants Iain Douglas-Hamilton and Chicago Zoological Society president Stuart Strahl join us to discuss what can be done to curb the illegal ivory trade and save these majestic creatures.
---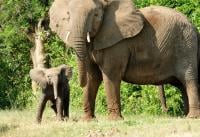 Research suggests approximately 100,000 elephants were poached between the years of 2010 and 2012, according to the Save The Elephants.
Illegal killing rates were estimated as an average of approximately 33,630 elephants per year based on estimates of the species total, according to the study. Illegal killings were most pervasive in Central Africa, "where results supported probably declines each year since at least 2007," according to the study.
In the past 10 years, the proportion of illegally killed elephants increased from 25 percent to 60 to 70 percent, according to Save The Elephants. Conservationists estimate that a poaching level of 54 percent is unsustainable when compared against elephant birth rates, meaning current poaching rates will lead to a population decline.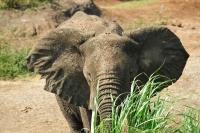 "This study helps make sense of the challenge faced by thousands of rangers working on the frontlines to protect elephants and other species across Africa," co-author of the study Julian Blanc, Convention on the International Trade in Endangered Species secretariat told Save The Elephants. "It also highlights the importance of the accurate collection of data as part of their day-to-day patrol work, which is essential to understand and communicate the true proportions of the threat that elephants face."
According to 96 Elephants (which gets its name from the approximately 96 elephants that are poached every day), there were roughly 1.2 million African elephants in 1980. After the illegal ivory trade "heyday" during the 1980s, the population declined to nearly 420,000 in 2012.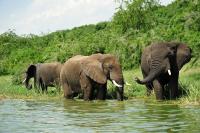 Following the 1989 ivory ban, "we have seen political attempts to weaken the ban, wars spilling into elephant habitats across Central Africa, and thriving ivory markets in East Asia, due to a burgeoning middle class," according to 96 Elephants.
In regards to technique, modern-day poaching is described as "brutal and sophisticated." Poachers use helicopters, GPS equipment, night-vision goggles, and automatic weapons to find and kill elephants, according to 96 Elephants.
Watch a preview of a documentary about elephants and ivory poaching.