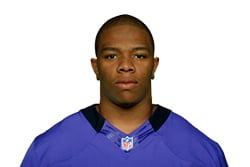 Baltimore Ravens running back Ray Rice may be the biggest name in the NFL right now for an off-the-field story. The Ravens announced Monday, Sept. 8, that they will cut Rice. Shortly after that announcement, the NFL suspended him indefinitely. This comes after TMZ released a video from Feb. 15 that shows Rice punching his then-fiancée while inside an Atlantic City hotel elevator.
The NFL previously gave Rice a two-game suspension but opted to suspend him indefinitely following the tape's release. The league says it did not see the video back in February and believes their latest effort to reprimand the football player is appropriate for his action. New Jersey's law enforcement and prosecutors backed the NFL's claim of delayed viewing of the footage. Authorities say the league asked to see the tape months ago, but prosecutors refused for legal reasons.
Nike confirmed Tuesday that the company would no longer be endorsing Rice. Nike decided to sever ties with the former Ravens player in an email. His actions will also remove his likeness from this year's "Madden" installation. EA Sports revealed Rice's indefinite suspension will remove him from the videogame, "Madden NFL 15." The company said the roster change will be updated through an online patch Friday since the game went on sale in August.
We talk with NBC 5 sports reporter Peggy Kusinski, Fox 32 sports reporter Dionne Miller, Chicago Metropolitan Battered Women's Network Executive Director Kathleen Doherty, and radio host Matt McGill, host of The Matt McGill Show on WVON, about how the NFL handled the situation, how the NFL plans to handle similar situations in the future, and why some domestic violence victims choose to stay with their abusers.
View the footage of the attack below.