It will be a hot issue in the upcoming mayoral campaign-an elected school board. Chicago Students Union will march in favor of an elected board in a rally. We discuss the growing debate on Chicago Tonight.
---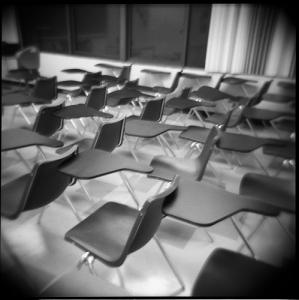 Chicago Public School students rallied and marched in the Chicago's Loop Monday demanding an elected board of education and new prioritized funding for students.
The Chicago Board of Education was founded in 1840 and is responsible for the governance, organization, and financial oversight of the Chicago Public Schools. The board established standards, policies, and initiatives to ensure accountability within the third largest school district in the country.
The board and the mayor have come under fire from some residents in the wake of 50 school closings last year, a contentious budget passed for 2015 and most recently, a controversial annex for one of the cities wealthiest public schools in Lincoln Park.  
In accordance with the Amendatory Act of 1999, the board consists of seven members. Board members are appointed directly by Chicago's mayor. The president, vice president, and secretary serve as the officers for the Board of Education and are elected annually in July or whenever a vacancy exists. In order for a board member to be elected as an officer, he or she must receive a majority vote by the full Board of Education. 
Learn more about the Chicago Board of Education.
While Chicago is not the only city in the country to appoint school board members, according to the National League of Cities, some in City Hall are looking to change that.
"At the last meeting, the progressive caucus introduced an ordinance to put on the February ballot calling for whether or not Chicago should have an elected school board," Ald. Bob Fioretti said. "We are encouraged by people and hopefully aldermen will see fit to get this pulled out of the rules committee and put on the ballot. Let's have the people of Chicago voice their feelings on this matter. We are the only school system in the state that has a board which is not elected so why do people fear it?

"The school system is controlled by one person, not by a board even. The people of this city need to be much more democratically aligned in terms of what happens with our school system and who controls it. The school board is raising property taxes and so is the park district, both are not elected by city residents. It's time the people of the City of Chicago had a voice on those bodies that affect them on a day-to-day basis. An elected board will achieve that result. And I'm looking forward to having that referendum being put on the ballot for the February election."
According to a recent poll conducted by Chicago Tribune, city residents are frustrated with Mayor Rahm Emanuel's handling of Chicago Public Schools and their policy.
Two-thirds of those surveyed disapprove of the mayor's stewardship of Chicago Public Schools. According to the survey, "Of the 52 percent of city voters dissatisfied with Emanuel as mayor, almost 9 out of 10 disapprove of his handling of the public schools."
According to CPS spokesman Bill McCaffrey, "we share our students' desire to ensure everyone throughout Chicago Public Schools has access to a high-quality education. With school starting soon, we hope their passion will inspire other students to return to classrooms ready to focus on their education."