"The Qualms" is the foul-mouthed new play from Pulitzer Prize-winner Bruce Norris ("Clybourne Park"). Directed by Tony Award-winner Pam McKinnon, it just opened at Steppenwolf Theatre.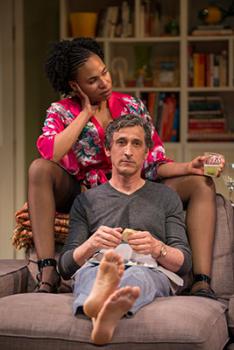 In the show, four couples get together for a swinging party. Before the sex heats up, one of the men gets cold feet. His "qualms" about his potential swap-mates erupts into confrontation.
I saw "The Qualms" over the weekend with a friend, an infrequent theater-goer. He loved it. "4 out of 5 stars." I was closer to "3 and 3/4" but thought it was a provocative pleasure. The cast of eight is terrific as they trade proclamations, insults and confessions on monogamy and sex. Leaving the theater, I immediately had a list in my head of people I'd tell to go see it.
So I was disappointed when I read Chris Jones' review in the Tribune. "2-1/2 stars." He praises the show as "promising" and "fast-moving" but adds "you could not care two figs about any of these characters."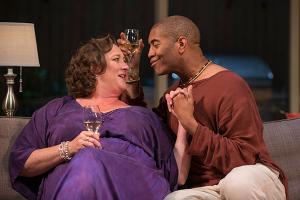 There are certainly false steps – like dialogue that can occasionally feel out of character – but I truly cared for most of these people. Kirsten Fitzgerald as Deb is convincing and sympathetic as a bold, fun woman with a real vulnerable side. Kate Arrington's Teri is a sweet flake: seemingly an innocent but very, very experienced.  
The men are just as neurotic, if not as clearly defined. But when you have four wonderful actors – including improv Olympian David Pasquesi as an alpha aggressor – it's great fun to see them clash. (They're men, so of course they wind up making war instead of love.)
Then I saw Hedy Weiss's review in the Sun-Times: "Torturously unfunny… trivial," and the characters are "vapid and one-dimensional."
[Disclosure: I've worked with Hedy for years producing her roughly 10 appearances a year on Chicago Tonight. She's delightful and professional, and I agree with her maybe 90% of the time.]
Hedy sees the ideas of the show as "old and obvious," as though nothing has changed about sex since the movie "Bob and Carol and Ted and Alice" (which she cites) was released in 1969.
But compare pornography now with what was available 45 years ago – today's teenager has seen more graphic sex than a dirty old man of that era. Our views on race and homosexuality have evolved, and the language that we hear and speak is much coarser than it was back then. There's plenty to talk dirty about, and these characters dish.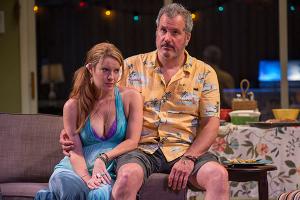 To me the people onstage are lost children, all grown up and still looking to play, finding a way to soothe the psychic damage done to them. They're fun-loving folks with a streak of sadness.
If you're not offended by frank and filthy talk, I'd even argue "The Qualms" is a good date show. If this play doesn't break the ice with you and your partner, maybe you should start seeing other people.
[UPDATE: Since I began writing this post, The Chicago Reader's Tony Adler published a very positive review of "The Qualms." And a few minutes ago, a colleague and fellow arts producer told me he enjoyed it as much as me.]