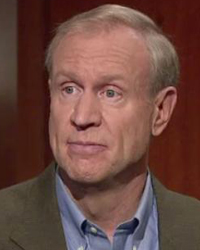 Gov. Pat Quinn's campaign is taking aim at new revelations that surfaced this weekend regarding a nursing home company run by Bruce Rauner's former private equity firm. Rauner spoke today about a series of lawsuits dealing with a company he founded called American Habilitation Services. 
Most of the problems detailed were unfit living conditions, deaths of disabled residents, failure to stop patients from harming themselves, and multiple accounts of sexual assault.
The GOP gubernatorial candidate denied any involvement in the scandal at a press conference on Monday, July 14. 
"I was never on the board, I was not involved in the company in any regard personally but, it's a frustrating and tragic situation," Rauner said.
But Republicans shot right back accusing Quinn of overlooking the same types of scandals that took place in state run health care facilities. Paris Schutz has more on the developing war of words.