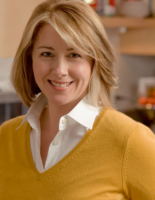 The Lincoln Park market was created in order to bring fresh produce to residents but also to create a connection between farmers and the Chicago community. We talk with Dana Benigno, former executive director of Green City Market and local chef.
We also cook up some fun on set demonstrating one of the freshest summer recipes from the market's new cookbook out this month.
---
Here's a recipe from the "Green City Market Cookbook" for Sunset Salad with Beets, Plums, and Tomatoes.
Sunset Salad with Beets, Plums, and Tomatoes

This salad really means summer in Chicago to me – it is the perfect addition to a late-harvest meal after a trip to the Market. It also celebrates local growers, who have rescued so many heirloom varieties of tomatoes and plums. They're at their best at this season and complement each other in flavor and color.  –Judith Dunbar Hines, customer   

Prep time: 20 mintues

Cook time: 1 hour

Yield: 4-6 servings

Ingredients:

4 medium golden beets, trimmed and quartered
4 fresh plums, pitted and cut into 1/2-inch slices
1 cup yellow pear or cherry tomatoes, halved
2 tablespoons olive oil
2 tablespoons red wine vinegar
1 tablespoon finely chopped chives
1 teaspoon chopped thyme leaves
1 teaspoon Dijon mustard
1/2 teaspoon salt
1/4 teaspoon freshly ground black pepper
3 cups mixed baby salad greens

Preheat the oven to 450°F.

In a large, deep baking dish, place the beets in about 1 inch of water. Cover tightly with foil. Bake for 1 hour, until the beets are very tender. Remove from the oven and cool to room temperature. 

Place the plums and tomatoes in a large bowl. Slice the beets into chunks and set aside. 

In a medium jar with a tight-fitting lid, combine the oil, vinegar, chives, thyme, mustard, salt, and black pepper. Shake well. Pour half of the dressing over the plum mixture. 

Add the beets to the bowl. Toss well and let stand for 15 minutes. 

Arrange the greens on 4 to 6 serving plates. Drizzle with more of the dressing and top with beet mixture.