The flat grassy fields of Northerly Island are being redesigned and resculpted into an urban ecological park with diverse habitats for many species. We'll talk to the Chicago Park District and the Army Corps of Engineers about what it took to change the former Meigs Field runway into one of the crown jewels of the city's parks with rolling hills, a pond, and a camping area.
---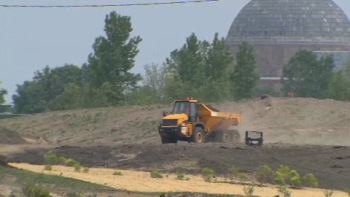 Construction on the southern 40 acres of Northerly Island continues, and the area is set to be partially open to the public by fall as work continues to turn the urban area into a six-ecosystem nature park.
Jeanne Gang, one of the chief architects of the project, designed the island to be an extension of the Museum Campus.  Though the site is man-made, it will recreate what the area looked like before the city was built, fulfilling Daniel H. Burnham's vision. 
Burnham was a famous Chicago architect and had envisioned Northerly Island to be one of the northernmost points in a series of man-made islands spanning from Grant to Jackson parks.
Northerly Island and Burnham Park were selected as the site of Chicago's second World's Fair entitled A Century of Progress 1933-34, and by the early 1930s, Northerly Island was increased to its present size.  From the 1930s through the 1940s, Northerly Island featured paths and walkways, scattered trees and grass, a parking lot and 12th Street Beach.
In 1947, Burnham's vision for the area was dismantled with the opening of Meigs Field. The single strip airport served as a runway for private planes traveling throughout the state and country. In 1996, the 50-year lease granted by the park district for Meigs Field expired. Seven years later, then Mayor Richard M. Daley made the controversial decision to demolish the airport, which led to the current idea for Northerly Island. 
Plans to transform the former airfield into a nature park were created by the Chicago Park District in 2010, and construction on the southern end of Northerly Island began during the spring of 2013.
So far, 30,000 of the 250,000 plants and half of the proposed shrubs and trees have been planted. A pond on Northerly Island will be connected to Lake Michigan, and eventually, an underwater camera could be installed so visitors to the Shedd Aquarium could see wildlife in real time.