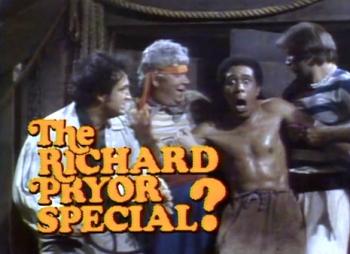 A fellow pop culture enthusiast pointed me toward a skit from The Richard Pryor Special?, a primetime special that aired on NBC in May 1977.
It's a reminder of how progressive Pryor could be in pushing the boundaries of storytelling. The skit appears to have been co-written by Maya Angelou, who placed an ad in Variety to thank Pryor and his creative team for the opportunity. Also – fair warning – it's also somewhat provocative due to some of the language still in use on network TV in the '70s.
---
Watch the skit.
---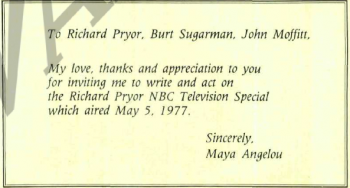 Without revealing too much: Richard Pryor plays a drunk. John Belushi has the straight role of a bartender. Around the 7 minute mark, Maya Angelou performs a soliloquy that turns everything you've just seen upside down, reminding us that comedy and tragedy live on the same block – in this case, right across the street from each other.
Postscript: The Richard Pryor Special? was a ratings success, leading to The Richard Pryor Show debuting in September 1977. It aired opposite ABC's Happy Days and lasted 4 episodes.
Thanks to Dangerous Minds for the tip.