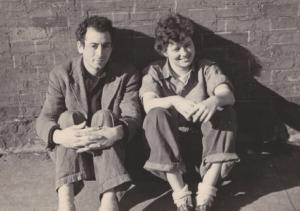 Gail and Morris Barazani have been married for 66 years – longer than their only son was alive. Morris is a retired professor and a noted modernist painter. Next month, he celebrates his 90th birthday with a one-man show at the Ukrainian Institute of Modern Art.
Gail Barazani has been a creative person all her life. She was one of the founders of the 57th Street Art Fair, and she's an expert on health hazards in the art world.
Their son David was imaginative like his parents. He was a teenager when a Canadian literary magazine first published his poetry. Here's a fragment of Dandelion Poet,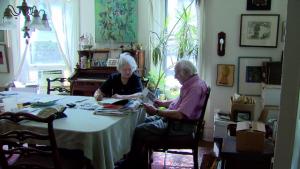 written when he fourteen years old:
          Dandelions star the grass
          Where they, slightly raised above the rest
          Like little yellow suns,
          Are taunted by the windy universe.
David and his family were likewise taunted by the universe. A talented student, avid reader, and skilled carpenter – David Barazani was afflicted with schizophrenia. He grew paranoid and turned to a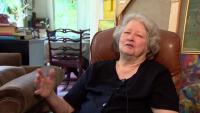 lcohol. Then he lashed out against the family that tried everything to help him. He stabbed his father, battered his sister. The police were called. Locks were changed.
When David died of cancer at age 59 in 2011 his family had made peace with him. They praised their beloved son for conveying "a sensitive and lovely vision of his world." Even today his mother marvels at her "precocious and talented" boy.
Gail thanks David in the foreword to a small collection of poems she published last year. She includes the poem written by him nearly half a century ago – and more recent words she wrote about the intensity of a mother's love for her son:
          There is no pain like it.
          No heat as hot as ice.
Gail Barazani's chapbook is called Poems 2. It includes her son's poem and her own works, including "Three Pain Songs" quoted above.  Copies will be given to visitors at the June 13th opening of her husband's retrospective art show at the Ukrainian Institute of Modern Art.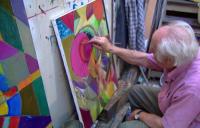 Here's a profile of the artist Morris Barazani from Chicago Tonight in 2012, where we first met Morris and Gail Barazani.