Rodgers and Hammerstein hit the opera house when Lyric Opera of Chicago stages The Sound of Music. We hear from two stars and get an in-studio performance of "Climb Ev'ry Mountain."
---
Read an interview with the actress who plays Maria in the musical, Jenn Gambatese.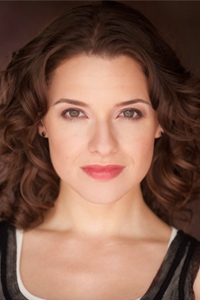 How does it feel to be a part of such an iconic production?
It's exciting and a little scary, but mostly exciting. I've always been a fan of the show and it's always been on my radar, so to get the chance to perform it for Lyric Opera is absolutely amazing.
What do you think about your character, Maria?
She's so full of life. She takes such a great journey throughout the musical. She sort of wears her conflicting emotions on her sleeve and she has a huge love of life. It's interesting actually the pull that she has between choosing a big life and a solitary one. I'm like that as well. I'm shy but I love acting, so sometimes I think I would like to be by myself but I would miss out on so much. Like Maria, I don't think shy is the first word that comes to mind when they meet me, but I guess I'm yearning for more solitary time. And I think Maria has that as well. She loves people but she loves nature and having that time alone with God. She realizes that life is something bigger than herself.
How does Lyric Opera of Chicago influence this production?
I think its influence is immeasurable. The theater's resources made us able to fully realize this show. [The Sound of Music] has been performed all over the place. Even on Broadway, you wouldn't have a full orchestra to bring the production to life. You certainly wouldn't see 20 nuns. I joked that enrollment is up at the abbey. You don't usually get that much detail in productions. It's grand in the most wonderful sense.
You've performed in many productions, including a national tour of Wicked where you played Glinda the Good Witch. How do those experiences compare to this?
Wicked was my last theatrical gig before this, and it was great preparation for this in terms of spectacle and size of the role. On the flip side, you can't get two better characters than Glinda and Maria. It was like a symbolic progression from one character to the other. It's kind of like Glinda took the whole show to learn what Maria knew already. She knew about the importance of being yourself, and that's something Glinda had to learn through her journey. It was a great sequence of career opportunities to go from that to this.
How does it feel to perform with Billy Zane?
It's great. He's a local Chicago boy so he loves being here and sharing his hometown with us. He's such perfect casting. He's such a cultured man that lived a big life on his own and that's exactly the character he plays (Captain von Trapp). And it's not like musical theater is something he does in irregularity. He's doing great and I enjoy working with him. He's also really confident, and if he's not feeling confident he has been doing a good job of hiding that.
What should theater-goers expect from this production?
They should expect to be transported in time, place and spirit. All the elements will be there to take them off of Wacker Drive and into the Alps! Although we're still early in, already there's something special happening. It's quite magical.
Interview has been condensed and edited.