Spring Gardening Tips
The Chicago Botanic Garden's Eliza Fournier joins us to talk about spring gardening. She brings tips and reminders on how to clear out the damage from a long Chicago winter and prepare for bountiful seasons ahead.
---
View a slideshow and read tips on how to start your own garden below.
Kathie Hayden, Manager of Plant Information Services at the Chicago Botanic Garden, gave us 5 foolproof tips on how to start a garden (for those of us who don't have a green thumb!)
5 Tips on How to Start your Own Garden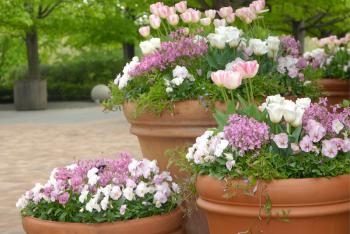 1 – Decide what type of garden you want to grow
Hayden: "What type of garden are you looking to grow? What plants interest you? What appeals to you the most? Vegetables? Perennials? Something with lots of colors? Annual? Trees and shrubs? Native plants?"
2 – Determining Light Requirements
"You need to really study how much sun you have, how much shade you have, locations for planting, etc. It is critical that you plant the right plant in the right place. If you put something requiring full sun in a shady garden, you are doomed for failure no matter what you plant."
Sun vs. Shade
| | |
| --- | --- |
| Full Sun | 6 hours of direct sun or more |
| Partial Sun | 4-6 hours of direct sun |
| Partial Shade | 2-4 hours of direct sun |
| Shade | 2 hours or less of direct sun |
3 – Compost, compost, compost
"No matter what your soil is like, it can always use compost. I can't say enough about that. If the soil has not been worked in a while, it's desperately needing compost. If it has been worked, if you move to a new home and there were gardeners in the house previously, it can't hurt to add compost."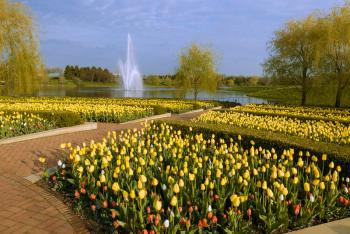 4 – Purchase healthy plants
"If you are viewing plants that are off-color or have spots, or are smaller or have an unhealthy look, don't buy them. It's important to purchase healthy plants, preferably from a local source."
5 – Don't Kill Your Plants with Kindness
"Once your plants are established, which can take 2-3 years, don't over-water them. With the exception of annuals, plants are resilient. During the drought a few years back, people were over-watering their plants. They killed their plants with kindness. Established plants, perennials, trees and shrubs only require one inch of water, once a week. And native plants don't require that much water. If you have nutritious soil and add compost on a yearly basis, maybe you don't need to fertilize."
~ Photos courtesy of Chicago Botanic Garden