Federal Reserve Chair Janet Yellen said the Fed may start raising rates around six months after quantitative easing —ahead of what experts were expecting. Eddie Arruza and his guests take a closer look at how the markets react to her comments at her first live press conference, and how her first policy meeting may affect the economy. Joining Eddie are Susan Schmidt, CFA and Managing Director of Mesirow Financial, Michael Miller, Economics Professor at DePaul University, and Gail MarksJarvis, Syndicated Financial Columnist for the Chicago Tribune.
---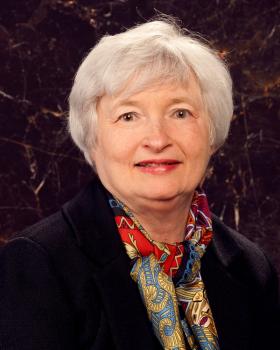 While Federal Reserve Chair Janet Yellen said the first increase in fed funds rates could begin six months after the end of quantitative easing, that's not a set timeline.
"It's possible it could happen as soon as six months," said Loyola University Chicago Quinlan School of Business Department Chair and Professor Marc D. Hayford. "[The timing is] contingent on how well the economy does...What [the Federal Reserve] does with interest rates is contingent on what goes on in the economy. They don't want to start tightening too soon because that could cause the economy to slow down, and if they did it too quickly, it could cause a recession."
The Federal Reserve will continue to stimulate spending and the purchasing of long-term assets, but the rate at which the Fed is purchasing, those assets will be slowing down.
"I don't think anything will happen soon," Hayford said, adding he does expect interest rates to rise eventually. "Interest rates probably won't be any lower in the future than they are now, that's my guess. It's just an issue of timing of when the rates start to rise more. [And] that has to do with the Fed's perception of how the economy is getting back to the long run."
When interest rates do begin to rise, that could be welcome news to some.
"If you have funds in a savings account, you're earning very little, so those interest rates will rise," Hayford said, adding rising interest rates would also benefit people who are retired or living off of their savings.
While rising interest rates mean a higher return on investment, they also mean higher rates for loans and borrowing.
"People may be less inclined to borrow if rates are higher," Hayford said.  "When people decide or think about how much they could afford to borrow, they look at their income and how much they could manage for a monthly payment given their income...As interest rates rise, [people] may borrow less to keep the monthly payment the same."
However, as interest rates rise, it could mean that people are feeling more secure in their jobs which could lead them to feeling more confident in their ability to make payments, Hayford said. 
---
Watch Yellen's first press conference below, and read the full transcript here.
~Alexandra Silets contributed to this report.