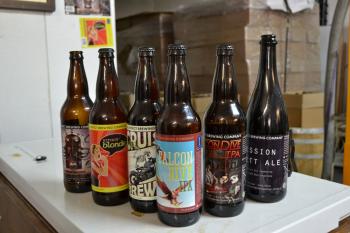 The craft beer trend is showing no sign of losing steam in Chicago. Nearly five years later, more and more craft breweries and brew pubs are busting onto the scene. And industry leaders say, the more, the merrier.
Even with beer sales in the U.S. dipping overall, the craft brew sector is still gaining momentum.
"Craft beer sales grew 9 percent in 2013 which increases the market share to 7.8 percent total," said Illinois Craft Brewers Guild director Justin Maynard. "We have well over 70 breweries in Illinois and close to 40 breweries in planning."
With brewpubs like Hopleaf and Sheffield's in the city, Chicago residents can enjoy the region's local brews.
We talk with Crain's Chicago Business reporter Lorene Yue and Chicago magazine's Cassie Walker Burke about the trend and where the industry is heading in the coming years.
We also visit with local craft brewers John and Ben Saller of Atlas Brewing Company and Lake Effect Brewing Company owner Clint Bautz to get their story and the skinny on some of their most popular beers.
View a map of Chicago magazine's best bars and newest craft beer spots. View a slideshow below, and take our craft brew quiz!