As spring in Chicago gets underway, so do the building projects. We talk with Chicago Tribune's Pulitzer Prize-winning architecture critic Blair Kamin about the most recent building projects in the news and what will be coming down the pipeline.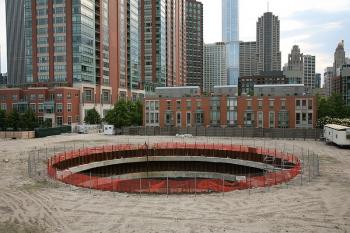 Chicago Spire
The future of the Chicago Spire is being determined in a two-day U.S. Bankruptcy Court trial starting today. The proceedings will determine who controls the land and whether building can continue after work halted six years ago.
Irish developer Garrett Kelleher, once in charge of the project, is willing to give control to Atlas Apartment Holdings LLC, a Northbrook-based company in order to complete construction.
But Related Midwest, an affiliate of New York-based developer The Related Cos., is blocking this move after acquiring the $96.5 million debt associated with the project and is objecting to the intended financing plan.
Soldier Field
Mayor Rahm Emanuel continues his push to add at least 5,000 seats to Soldier Field. Due to the 2003 renovation under Mayor Richard M. Daley, the $690 million upgrade cost the stadium almost 5,500 seats. This leaves Soldier Field 8,500 seats short of the NFL Super Bowl threshold.
However, Chicago has been unable to return to solid fiscal footing in recent years. Moody's Investor Service downgraded the city's credit rating last week, citing the unfunded pension liabilities. With a $590 million payment for retirement obligations due next year, building projects like the Soldier Field expansion may have to be put on hold.
Endangered Properties
Architectural advocacy organization Preservation Chicago released its list of the most endangered buildings for the year, which includes the Crawford and Fisk Power Plants. Both plants date back to the early 1900s and were once considered the paradigm of modern engineering. According to Preservation Chicago, both plants were designed by noted architects and once housed the world's largest electrical generators.
In order to preserve the historic structures, Mayor Emanuel created a task force in 2012 to determine how to repurpose the coal-fired power plants that sit vacant on Chicago's Southwest Side.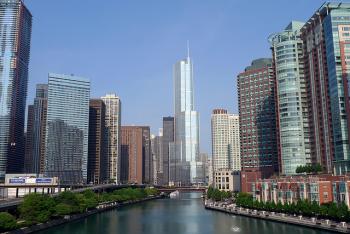 Trump Tower
The Trump Tower located at 401 N. Wabash will don new signage in the coming months. The sign will say "Trump" of course and be made up of 20-foot tall steel lettering backlit by LED lights.
The sign will be installed just below the 16th floor terrace, but this plan has been met with some pushback from advocacy groups and architectural leaders in the city.