We meet the four Republican candidates for Illinois Lt. Governor and hear their vision for their jobs, and for Illinois. Joining us in the order they appear on the ballot are Maria Rodriguez (Bill Brady), Steve Kim (Dan Rutherford), Jil Tracy (Kirk Dillard), and Evelyn Sanguinetti (Bruce Rauner). Read a recap of our live online chat below and view a slideshow. Read a backstage blog about the post-forum news conference.
---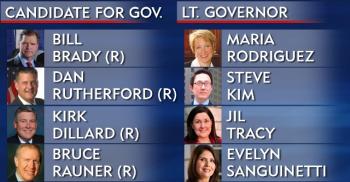 There are four Republicans who are vying to be the next Lieutenant Governor of Illinois and they are paired in the March Primary with a candidate for governor – a change in the law as a result of a scandal in 2010.
After Gov. Rod Blagojevich was arrested for corruption in 2008 and impeached in 2009, Lt. Gov. Pat Quinn assumed the office of governor. The Lt. Governor's office remained vacant until the following election year when the Democratic nomination was won by pawn shop owner Scott Lee Cohen, who beat five Primary opponents. Cohen's win assured him the spot next to Gov. Quinn on the ballot in 2010. But past domestic battery charges, orders of protection and steroid use, among other issues surfaced and Democratic leaders forced Cohen off the ticket. Soon thereafter, legislators changed the law to make Governor and Lt. Governor candidates run together.
Currently, Lt. Gov. Sheila Simon makes about $135,700 and has a staff of 31 with a budget of $1.4 million. The position has few official duties dictated by the State's Constitution* beyond preparing to take over the top job, earning it the nickname "light governor."
According to Simon, six Lt. Governors have succeeded Illinois Governors who died, resigned or were removed from office. Two Illinois Lt. Governors -- Dave O'Neal and Bob Kustra -- both Republicans, resigned. O'Neal said he was bored with the job.
According to Lt. Gov. Simon's website, her current job duties are:
"The Illinois Lieutenant Governor's diverse daily duties are derived from the Governor, Legislature, statute and personal initiative. These duties include, but are not limited to, serving as chair of the Governor's Rural Affairs Council, the Interagency Military Base Support and Economic Development Committee, and the three Illinois River, Mississippi River, and Wabash and Ohio Rivers Coordinating Councils. Lt. Governor Simon is leading efforts to protect our rural areas, military bases and waterways."
* In the event of a vacancy, the order of succession to the office of Governor or to the position of Acting Governor shall be the Lieutenant Governor, the elected Attorney General, the elected Secretary of State, and then as provided by law. If the Lieutenant Governor fails to qualify or if his office becomes vacant, it shall remain vacant until the end of the term...The Lieutenant Governor shall perform the duties and exercise the powers in the Executive Branch that may be delegated to him by the Governor and that may be prescribed by law.
---
Here is a little more about the candidates for Lt. Governor in the order in which they appear on the ballot:
Maria Rodriguez, 54, is the former village president of Long Grove and is running with State Sen. Bill Brady. She has a bachelor's degree from University of Illinois at Chicago and was also Long Grove's former village clerk and trustee. Her family runs an Alpaca farm. Rodriguez most recently lost to Joe Walsh in the 8th District Primary for U.S. Representative in 2010. Sen. Brady lost to Gov. Quinn in the 2010 gubernatorial primary. Rodriguez lives in Long Grove with her husband and three children.
Steve Kim, 43, is an attorney from Northbrook who is running with Illinois Treasurer Dan Rutherford. Kim has both his bachelor's and law degrees from Loyola University of Chicago. He is a former Northfield Township Trustee, and worked as a director at the Illinois Chamber of Commerce and as a special assistant to former Gov. Jim Edgar. In 2010, Kim lost his statewide race for Attorney General against incumbent powerhouse Lisa Madigan. He won 32 percent of the vote to her 65 percent. He lives in Northbrook with his wife and son.
State Rep. Jil Tracy, 58, is running with State Sen. Kirk Dillard. Tracy has both of her bachelor's and law degrees from Southern Illinois University. She is a former Mt. Sterling Park District commissioner, and assistant attorney general and director under both former Attorney General Jim Ryan and current Attorney General Lisa Madigan. In the 2010 GOP Gubernatorial Primary, Dillard lost to Sen. Bill Brady by 193 votes. Dillard is giving up his Senate seat to run for governor, and Tracy decided to retire as a state representative to run for Lt. Governor on his ticket. She lives in Quincy with her husband and four children.
Evelyn Sanguinetti, 43, is a city council member in Wheeling and an attorney. She is running with multi-millionaire venture capitalist Bruce Rauner, who has already spent a record-breaking $6 million on his primary run for governor. Sanguinetti has a bachelor's degree from Florida International University and law degree from John Marshall Law School. She was an assistant attorney general under former Attorney General Jim Ryan. She lives in Wheaton with her husband and three children.