We chat with Dean Everette Dennis about Northwestern University's Qatar campus, and the communications hub in Doha that is forging a new path for journalists in the Middle East.
---
Read an interview with Dean Dennis.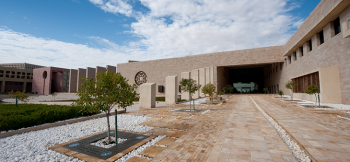 What are some of the changes taking place on campus?
Mainly, it is a creation of a whole new school - bringing freedom of expression and communications to the region. The main change here is the goal of employing research for the youth in the region, and using the internet as a template for use. If you want to know something about media, you would come to our school. We are also working to have students from Evanston come over to augment their learning. We are trying to engage the country to create a media city. They have sites like this for some industries, but more can be done and we are spearheading that effort.
What are some challenges?
One is the region which is in a country that does not have any tradition of a free press. That is constantly evolving so we navigate around that. We also have the traditions of the Middle East and the role of women to overcome. Our student body is heavily female. It is all about integration of new and old, but it is working and coming together.
How long has this campus existed?
The campus has been here since 2008 and I came aboard in 2011. And the city itself is made up of six universities, including Northwestern. Five other programs have been created, and it is a premier enclave for education in the Middle East.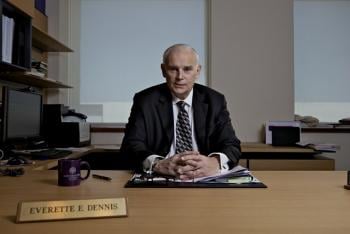 Is there a strong collaborative effort among the six universities present?
It is like an academic common market. Students can take classes at all six – some students opt to take political science at Georgetown or focus in law at Cornell or in the science program. We have media and politics programming with Georgetown, and we have research projects that involve all the other campuses. There is a lot of interaction and coordination. It's interesting for the students because it gives them access to all.
Is the cost more or less than the home campus in Evanston?
For the student, it is exactly the same tuition as the home campus.
Does the campus location allow students to immerse themselves in Middle Eastern topics?
We are in the midst of issues you hear and read about around the world, and with countries in flux over political standing. A lot of the controversies in the Middle East are right here. Our students are covering it and are very aware. It is a great asset to be able to understand the whole region, which is massively misunderstood in the world. It is complimentary to the work on the campus in Evanston where programs can focus on global issues or African tensions for instance. Student experience and the technology we have access to in Doha also connects to Medill and the work there, and with the IMC communication technologies.
Describe the student exchange program – from Evanston to Doha.
It is just starting and students from the home campus will begin next fall. We will have some special features and have specific seminars. They will spend time at Al Jazeera and other media outlets to get a feel for the region and covering stories here. Students from the Qatar also go to Evanston so we have that back and forth. We are really excited for the fall study abroad program to get started. There was a slight delay as a result of dorms not being completed in time, but we are ready now.
Has this transfer student feature had an impact on admissions?
I think that this program feature is going to become quite attractive for prospective students. As Evanston evolves, I think this is the first time such a robust Middle East program has been introduced. Northwestern has a very ambitious global agenda. We are the obvious template, not just from here but for other countries. Doha is also a major hub for traveling to other countries.
What is your ultimate goal for the program in 2014?
The main goal is really to get a group of students interested in learning about the Middle East in a concentrated fashion – learning through journalism, communications, and having access to the local area. By having the constant interaction with our students and the local community, I think they can build an interest that will spread and strengthen ties between our school and the region.
It is a volatile area. What type of safety precautions does the school take?  
We monitor this very carefully. Coming into Qatar is safe. Everything is safe on the campus and security is high, but yes, the region is very volatile. All students have a chance to travel to other places, and we monitor that very carefully also. We are very much on top of that with escorts traveling with students. But we want to minimize the risk as much as possible, and we are very transparent about that. Overall, we think Qatar is a platform for a broader agenda really.
Is the language barrier an issue for students?
No, anyone who wants to learn some Arabic can. We have Arabic for journalists. Everyone at the campus speaks English, and most of the people in the country speak English as well. Arabic is crucial if you plan to stay in the region, but without the knowledge, you can study and still immerse yourself. We sometimes have subtitles for a broader representation and have a lot of translations available.
Is there anything else you would like to add?
The physical structure of the campus was designed by world-class architects. We have a new building coming in 2015 and it will be one of the most advanced communication buildings in the world. We have equipment that broadcast companies salivate over. We are lucky to have these types of resources for our students. When you have that type of equipment, you have to make sure you have content worthy of it.
Interview has been condensed and edited.