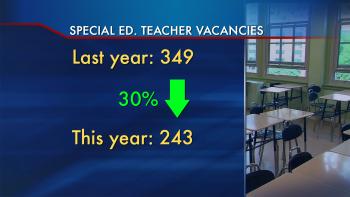 The duties of special education teachers have changed dramatically since children with special needs were mainstreamed or brought into the primary classroom about a decade ago. Now, hiring and keeping those special education teachers is much harder for school districts. We take a look at why and what's being done about it.
Master's degree graduate and, now, new teacher Elizabeth Martinez took her time with the job search by first wrapping up her last semester at UIC, and her last days of student teaching at Telpochcalli Elementary School in Little Village.
And from what she's hearing through her fellow masters of special education graduates, "they've been called by many schools, so I think I'm positive that I'll find something," she said.
The job market is wide open. For example, Dustin Deal has received five offers from Chicago Public Schools. He's planning to put what he's learned in school to work at Lindblom Math & Science Academy.
"The things I've learned the most about teaching is just the patience of it," said Deal. "It's rewarding when I'm at school and working with students, and seeing their growth."
Their professor, Dr. Michelle Parker-Katz, says they've chosen the right field, since there is a vast shortage of special education teachers.
"It is massive. Chicago Public Schools has so many vacancies so that means kids with disabilities are not getting the services and supports that they are mandated to get by federal law," she said.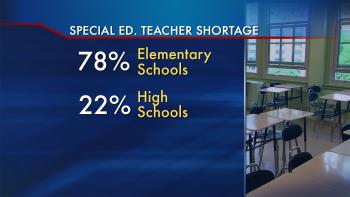 CPS says it's managed to decrease those vacancies by 30 percent -- from 349 openings last year to 243 this year. Of those vacancies, 78 percent are in elementary schools and 22 percent are in high schools.
Dr. Markay Winston, CPS's Chief Officer of the Office of Diverse Learner Supports and Services, explains why it's a tough job to fill.
"It's not an easy job. It's probably one of the most difficult, most challenging jobs, but least understood, to be a special educator," said Winston. "I know teachers often talk about the volume of paperwork that's necessary as a special education teacher. And that has led some of our teachers to leave the profession to be perfectly honest with you."
But the shortage of special education teachers isn't only in Chicago. Nationwide, 98 percent of school districts are reporting a shortage, and it's expected to get worse. By 2020, the Bureau of Labor Statistics says that gap will have increased by 17 percent. And on a higher education level, 50 to 66 percent of special education faculty are expected to retire in the next few years.
"That retirement issue is apparent in both places: both in K-12 and in higher education," said Dr. Parker-Katz. "We're seeing huge vacancy rates because we're not retaining teachers, so we license teachers and they may stay for five years or so."
As part of its strategy to fill those positions, CPS works with special education programs at universities around the country to recruit spring and December graduates. Like those in Parker-Katz's classroom. But, the professor is also working to fill other vacancies: those at the higher education level. She's recently received a federal grant to train doctoral students, who can then train more educators.
"We're teaching the teachers' teachers. And also, by teaching those teachers' teachers, we're also preparing them to do much needed research," said Parker-Katz.
It'll be several years before those graduates are at work. In the meantime, CPS says it has to find creative ways to recruit and retain teachers.
"Our retirees have been a phenomenal pool from which to pull to bring back in and fill some of our vacancies where we do have some shortages, and so that's been a major effort," said Dr. Winston.
Watch an extended interview with Winston as she elaborates on the challenges in hiring special ed teachers and how the district is working to solve the problem:
Until more teachers like Elizabeth Martinez and her classmates are ready for their own classrooms.
Since graduating, all five of the students in Dr. Michelle Parker-Katz's class have received multiple offers, and one of them, Dustin Deal, started his new teaching job last week.